Wow, another two weeks has gone by already? I feel like Baby G will be here before we know it, and boy do I have a lot to get accomplished between now and then.
The nursery is in great shape. Furniture is setup in the room, and we even hung a few pictures over the weekend. Once I saw actual stuff on the walls, it really started to feel like our boys room. Hard to explain, but such a surreal feeling.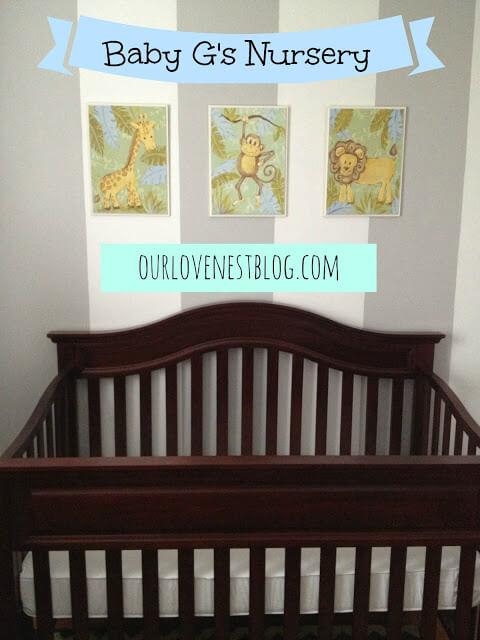 We don't have any bedding yet, but I changed my mind and chose a much less expensive set from Target. We will probably order it in a few more weeks, once all of my showers are over. And, speaking of showers, I am getting so excited for mine! My registry is all set, and I have my first shower (with B's family here in MD) coming up two weeks from Friday! I can hardly believe it will be May so soon. I remember feeling like my shower dates were SO FAR away.
I have taken a small break (OK, sort of) from ordering cute little baby things to focus on the house projects that we still have left to complete before G makes his big debut. The first of these is FINALLY completing our master bathroom. We have lived in this house for a year and a half, and our master bath has been gutted from day one. We had other priorities in the beginning, but have finally reached the point where having this bathroom is a necessity and I am happy to report that the tile is being installed today! We also bought a new light fixture, vanity and just ordered a mirror. It feels so good to finally have this project started and I cannot wait to see how it all turns out.
But, back to growing this little human - things are still going great. I am noticing a ton more movement as the days and weeks go by, and definitely a bit more discomfort here and there, especially if I've been on my feet too long. But, for the most part, we are doing our best to stay somewhat active, get plenty of rest, and even indulge in froyo now that the weather seems to have turned a corner.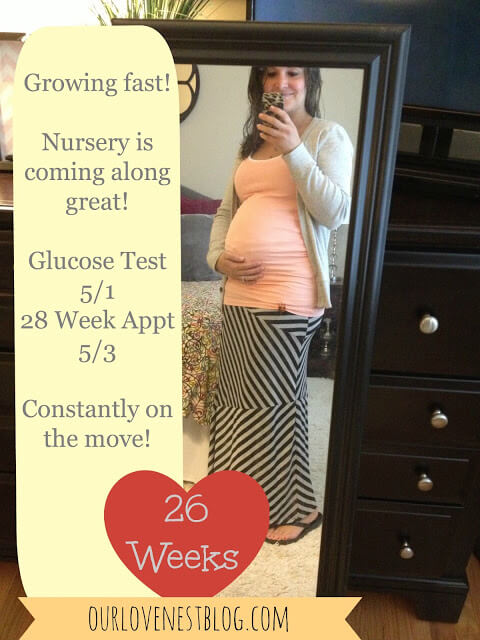 How far along are you? 26 weeks as of 4/16/13 (today!)
How I'm feeling: Feeling great. Some discomfort at the end of some of my days, but mostly normal and energetic for now!
Total weight gain: 11 lbs. as of 4/1/13
How big is baby? Apparently this is the part of pregnancy where they start estimating the baby's length from head to toe! Before it was just head to rump measurement, which would explain why he jumped from about 9.5 inches to a whopping 15 inches! He is also probably weighing in near 2.5 pounds. Whew!
Maternity clothes: Errrm, yes. I have three words for you: dresses, tanks, leggings. I am sure B is tired of seeing me in the same type of getup day after day, but this growing thing is serious business!
Stretch marks? Nope!
Sleep:

Sleeping pretty well. It takes me a while to get comfortable and I am still getting up to pee a time or two each night. Side sleeping is really getting old and my left hip starts to get sore if I sleep on it for too long without readjusting everything.
Best moment this week

:

Gavin is so active. I sit down each night around dinner time and just watch hi

m

kick and tumble around. I definitely never get tired of feeling him move, except for the mild pain I feel in the back of my rib cage from his little feet!
Movement: I adore this time with G.
Food cravings: So, my appetite has increased, but since everything has moved further up, I am getting full faster. Such a catch 22. Still eating pretty normal amounts, but some nights, I can barely fit more than a few bites of dinner at a time.
Food aversions: Nada
Labor signs: Well, I think Braxton Hicks may be starting to take shape. My belly will tighten up and it's shape will change here and there. I thought this was just G stretching out, but then read in my app that this is typical of Braxton Hicks. News to me! No pain, just notice the tightness and it happens pretty inconsistently. Third trimester is in sight, so I guess this was bound to start happening.

Belly button in or out:
Bahaha.
What I miss: Falling asleep on my back, and I would LOVE an

I

talian cold cut sandwich right now.

What I'm looking forward to: Finishing up a few small nursery projects, seeing our master bath come together, getting through my glucose test and my upcoming baby showers!
Milestone:
G Baby 'attended' his very first wedding and did pretty well with all of the busyness and traveling. He is starting to slow his Momma down a little bit, but we're still rocking most days. Thank God I work from home. I really think this has made a huge difference

i

n both my energy level and overall health!