Remember back in high school when hooded sweatshirt were all the rage? Or was that just for my class?! Regardless, I was never a hoodie collector until about junior year of high school when they seemed to be the 'cool' thing to wear. You know, much cooler than a jacket, and this was before the North Face takeover.
My collection grew pretty quickly, especially because I told my parents it was 'absolutely necessary' that I purchase one each new season for the sports team I was a part of. Because of this, I have about ten hooded sweatshirts that proudly display the name of my high school followed by 'Swimming' or 'Cross Country.'
In college I picked up a few more, because I couldn't rock my high school sweatshirts and expect many people to know where that tiny town in New Jersey was, after all.
Fast forward seven years, and I still have a plastic bin under the bed in our guest room that is chock full of my favorite hoodies that I've collected over the years. Some get worn more than others, but for some reason, I can't bring myself to get rid of them each time I do a 'closet clean out.' Maybe I'm holding onto the memories, but they are super comfortable, so who am I to just toss them?
So, when Dress United offered me the opportunity to try out one of their customized, American Apparel hoodies, I jumped at the chance to add a new, updated one to my collection. Call me crazy, but this Momma-to-be foresees many opportunities in the near future to rock said hoodies around the house all day long.
I got to choose my style, color, personalization and font color and the online design tool was so easy to use. I had my entire order ready in less than five minutes. How's that for convenient!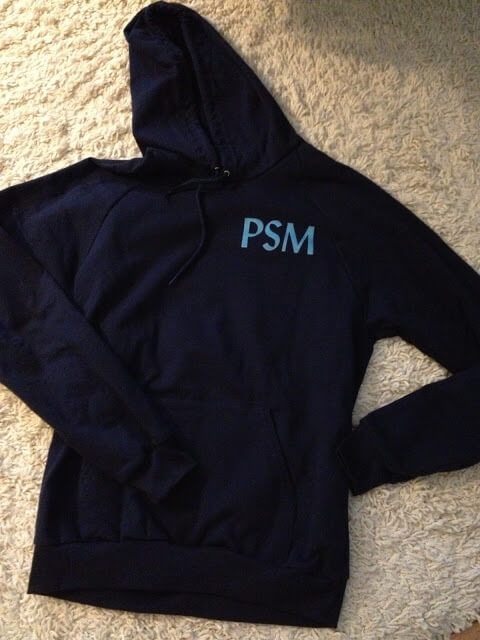 Of course I tried it on as soon as I opened the box, and at just about 24 weeks preggo, it still fit with a little wiggle room to spare. Ask me again today in a few weeks, and the story might be different, but there's always post-baby! The materials is soft, warm and perfect for all those weekends we plan on spending at the beach in the near future!
Now, here's the great news: I have a coupon code to share with all of you! You can get 30% off at dressunited.com, use code: BLOG30OFF4U starting today!
Happy Shopping!
*I was not compensated for this post, however I did receive one (1) hooded sweatshirt (pictured above) to review and the opinions expressed in th

is post are solely my own

.