When we found out we were expecting, there were a million things flying through our minds. Understandably, the name we would give our first born was not the very first thing on my mind. A few weeks later, while I was working in my office one day, I decided to pull up the short list of baby names that I had been writing down to save for when we needed them.
This list contained about five boy and five girl names, and B had never laid eyes on it. Once we got through the 12 week appointment and heard the baby's strong heartbeat, I knew it was time to at least introduce the 'name game' into conversation.
One night after dinner while we were relaxing over an episode of Modern Family or Cake Boss, I decided to show B the list.
He quickly 'vetoed' a few of the names that I knew were a bit of a stretch, but to my surprise, he liked some of my favorites and it was pretty easy for us to come up with a short list for both a girl or boy.
Fast forward a few weeks, and we found out our little one was indeed a BOY.
I immediately threw myself into nursery planning, baby gear buying and registry creating. We let the name choosing take a rest for a few weeks, and then picked it back up last Wednesday night after our successful anatomy scan appointment.
We went back and forth a bit between our three top choices, as most couples do, I'm sure. For me there was always one front runner, and it just so happens to be the name we chose. Shocking, I know. But, B was a huge help. He was creative, and brought a bunch of names and combinations to the table that I loved. In fact, he may have named our second son in the process, if we have another boy down the road. He was also the one that confirmed the name we chose for his middle name. I was still wavering, and he really helped me choose.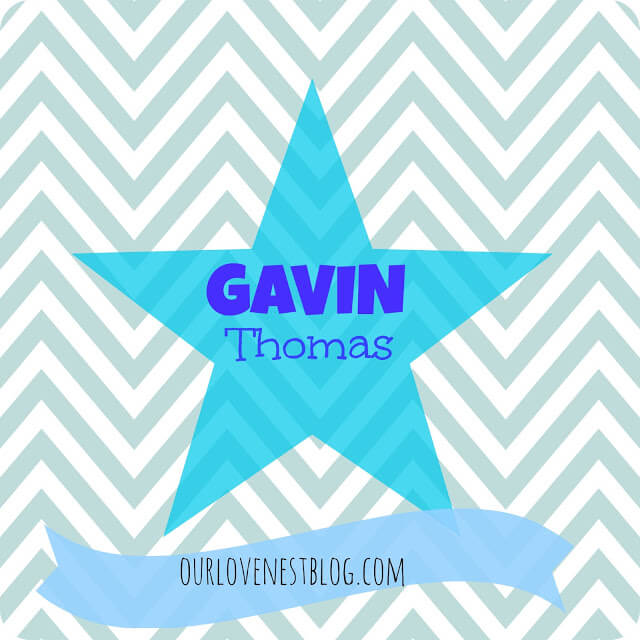 How's that for suspense, huh?
We are still getting used to actually calling him by his name. 'Baby Boy' has already stuck, so that will take some time. And there is no doubt that 'Baby G' will probably become his nickname very quickly. OK, maybe it already has.
We are so excited, and one step closer to meeting our little man! Thank you ALL for your love and support, we appreciate it so much!