A few weeks ago, I teamed up with the fabulous ladies that co-host 'Trendy Tot' Tuesdays. I was honored to be invited to do this, especially since my feet are barely even tou

ching the waters of motherhood.
But, luckily for them, one of my greatest strengths is the ability to shop. At the mall, from my desk, on a budget and with coupon codes, I d

o it all.
In my few shorts weeks of shopping for our Baby Boy, I have already narrowed down my favorite places to Baby Gap, Children's Place, Mini Boden and Carter's. And today, I want to share with you one of my absolute favorite collections for baby boy's from Baby Gap: The Little Aquarium Collection.
Sadly

, our Little G already owns about half of this collection, and he is not even here yet!
His Momma really needs to be put on a leash at this po

int.
The fish, the stripes, the color blocking

and overall versatility of this collection have me going back for more and more. And who ever said shopping for boys wasn't fun?!
Truthfully, G already has about a d

o

ze

n

items from this collection, ranging from sizes 0-3 months through 6-12 months. I guess you can call me extra prepared.
Some of the items can be a tad on the pricey side, but if you wait for a sale or coupon code, you can score a whole cart full of stuff for under $100.
I already have visions of G wearing his outfits to watch football with Daddy, or visit the pumpkin patch this Fall with some friends.
So, what are you favorite things to dress your tots in? I am all ears and definitely up for trying new things and lea

rn

ing from other, more experienced Momm

y's!
And this week, I'm co-hosting this linkup along with the other ladies. I hope you'll join us!
This week's 'Tot of the Week' is ... Kinley from Eaton Party of 3!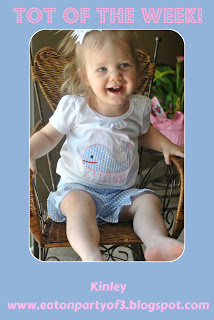 More about t

he

'Trendy Tot' Tuesday Linkup:
Trendy Tot

Tuesday

is a chance to talk about kid's style, and pretty much anything goes. Pictures of your cutie, talking about their style (that you buy and dress them in,

ahem!

), a Polyvore board, linking to the new kid's line at the Gap - anything! All ages welcome, from you sweet pregnant mamas stocking up a closet to the teenagers that probably pick all their own stuff out now
Please link back to (at least!) one of us, and feel free to steal our Trendy Tot

Tuesday

badge if you'd like. If you're a tweeter or instagram-er, use #trendytot
Interested in guest hosting? Please let me know if you think you'd like to be a guest host!! You can leave me a comment or email me!! :)