This pregnancy is flying by! I have heard from other, wiser Mommy's-to-be that things will slow down once we reach 30 weeks, but I feel like the last few months have been a total whirlwind of joy and surprises, and the next six weeks are sure to keep me on my toes!
My sister is getting married in Atlanta in less than three weeks. My youngest sister and I are sharing the matron/maid of honor duties, and just so happen to be in Florida as you are reading this preparing for the bachelorette party this weekend. So, there are lots of things going on in preparation for that and the big day, and lots of things keeping me busy and away from home.
Nursery prep and organization is going to be in full force once I am back home.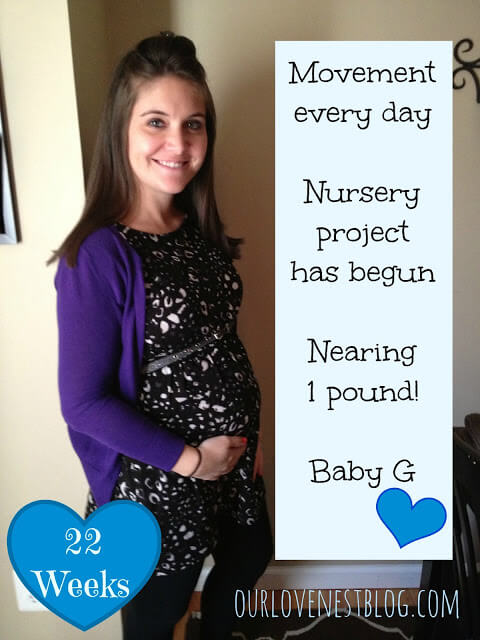 How far along are you? 22 weeks as of 3/19/13 (today!)
How I'm feeling: Feeling great and so blessed. Really enjoying being pregnant at this point, as I'm sure is normal for the second trimester. Having some back pain in the evenings on one side if I a

m

sitting or standing for too many hours throughout the day. I am trying to make myself get up from my desk at least once an hour to stretch or walk around, but it doesn't always happen.
Total weight gain: 7 lbs. as of 3/5/13
How big is baby? Size of a spaghetti squash/papaya and nearing the 1 pound mark!
Maternity clothes: Wearing them most of the time. Still wearing all non-maternity cardigans and some blouses, and the occasional pair of pants. Absolutely could not LIVE without my Old Navy maternity tanks and getting excited to finally start wearing dresses again!
Stretch marks? Not yet!
Sleep:

Bought myself a body pillow (just from WalMart) and it has worked wonders for me! I can get comfortable so much easier and I'm sleeping for much longer stretches. I definitely recommend investing in one.
Best moment this week

:

Our boy officially has a name! Baby 'G' can now begin receiving nicknames and personalized gifts, and I am even more excited to put a name to his sweet face. B is also painting the nursery for me this week while I'm out of town, and I am beyond excited to see how it turns out, and to start putting the room together.
Movement: Still feeling him move every day. I always try and stop what I'm doing to focus on his activity for at least a moment or two. He is definitely an active little guy!
Food cravings: My mantra: Carbs and sweets, carbs and sweets, carbs and sweets. Definitely eating lots of fruit and have at least a smoothie per day, on average.
Food aversions: Nothin'
Labor signs: Nope.
Belly button in or out: Definitely out. Wayyyy out.
What I miss: Bud Light. Not having to get up to pee twice every night.

What I'm looking forward to: Getting the nursery started and seeing it come together. 24 week appointment coming up April 1st and glucose screening shortly after.
Milestone:
Referring to Baby G by his name. It takes on a whole 'nother level of bonding. And I simply adore hearing B say his name. Swoon.