How is it possible that we have reached the halfway point already?! As much as I am wishing the time away, and am anxious to see what the next few months will bring, and to meet our boy, I am trying to savor and remember the moments. What his kicks feel like and the sound of his heartbeat at every doctors appointment. All of the anticipation and the new things that B and I are experiencing as a couple. I want to remember it all.
Since we chose a name for our little guy, I feel like we re moving right along. Next up is getting the nursery ready. We have plans to clean out the room that is currently housing my home office. We'll move my office downstairs and create the nursery down the hall from our bedroom upstairs.
Once the room is empty, we plan to paint it and order the furniture. I already have so many little outfits and baby items that I can't wait to have actual dresser draws to organize them into. More to come on our plans for the nursery soon!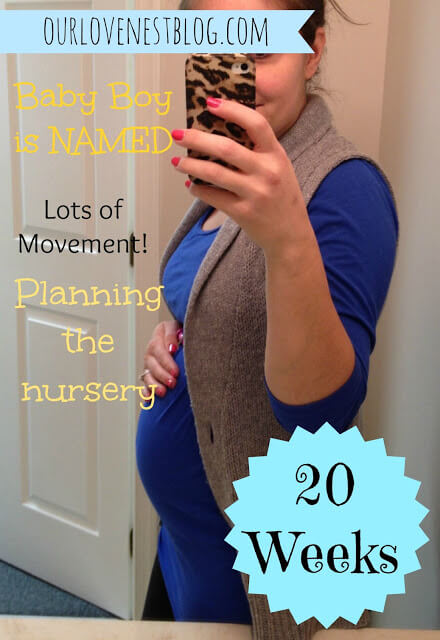 How far along are you? 20 weeks as of 3/5/13 (today!)
How I'm feeling: Feeling great for the most part. Still fighting the heartburn, and not sleeping as well as before, but I have much to be thankful for in terms of my health!
Total weight gain: 7 lbs. as of 3/5/13
How big is baby? Size of a large banana
Maternity clothes: Sporting them often now. Jeans, leggings, tanks and tops. Still throwing in non-maternity stuff here and there as long as it fits ok!
Stretch marks? Nada. But I am counting the days.
Sleep: It takes me a while to get comfortable once I'm in bed. Watching a few minutes of mindless TV and snuggling my new body pillow seem to work well for now.
Best moment this week

:

Our anatomy scan last week was awesome. It is so amazing to see his fingers, toes, limbs and so many working organs! He is measuring right on schedule; right around 10 ounces!
Movement: Feeling movement every day. It never gets old.
Food cravings: Still the same. Carbs and sweets, carbs and sweets, carbs and sweets.
Food aversions: Nothin'
Labor signs: Nope.
Belly button in or out: Definitely out. Wayyyy out.
What I miss: Sleeping on my back and not thinking about it, and having a drink when we go out with friends. Am I starting to sound like a broken record yet?!
What I'm looking forward to: Headed to ATL for my sister's bridal shower and bachelorette in a few weeks, and I'm excited for the girl time. My 24 week appointment is April 1st and shortly after that I'll do my glucose screening. Eeek.
Milestone:
Still overwhelmed with all of the excitement over our little guy. We chose a name and I plan to announce it here THIS WEEK!