Every year as February approaches, I get sort of giddy with anticipation over the arrival of Valentine's Day. Call it the romantic in me, but I still appreciate having a day to celebrate love.
But, I think it goes without saying that Valentine's Day must have been thought up by a bunch of women with the same sentiments as mine, because, what on earth do guys really want for this 'Hallmark' holiday?!
If your husband is anything like mine, he only shops for himself about twice a year, and he's happy sitting on his own couch drinking a cold beer from his own fridge in that same JCrew cotton tee he wore three days ago. Don't get me wrong, B has his own style and I love that about him, but he just doesn't revel in all things new, threaded and shiny like I do.
So, I've come up with a few fun date ideas that are perfect for surprising my man this Valentine's Day. I wanted to share because I'm sure some of these ideas would be great for the men in your lives as well!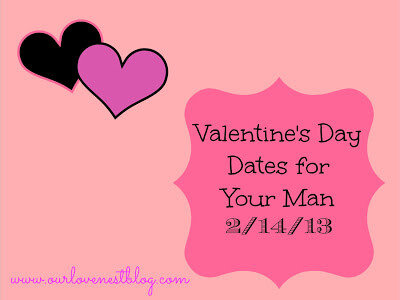 Tickets To A Sporting Event. My husband is a big football, college basketball and hockey fan. Since the Super Bowl is over, I know he'd love tickets to a University of Maryland basketball game, or a Capitals hockey game. I think my preggo self can handle either of these events! Check for tickets on other sites such as StubHub to make sure you're getting a good deal.

Write A Letter. B and I both come from families that value the written word. In fact, both of our Dad's have written us at least one letter (usually around the holidays) each year for as long as we can remember. B is awesome at writing 'love letters.' I have never gotten a card from him that didn't include at least a few heartfelt lines of text. I want to do the same for him, so this year's card will definitely include a short letter for my guy.

Game Night. My husband likes to play games. Board games, card games, he just enjoys it. And, it's something we rarely ever do because we have the TV or radio on 90% of the time we're home. This can be done right in the comfort of your own home. You can even wear comfy clothes, pop some popcorn and make a night out of it! We got Jenga, Uno and Apples to Apples for Christmas, so I'm thinking a game themed night is definitely in order for us.

Candlelight Dinner At Home. I am a big fan of this kind of date, and I know B loves it, too. It's a great way to save some money. We did something similar last year where I created a 'happy hour' for him to come home to complete with champagne, sweet treats, music playing, candles and a yummy dinner in the crockpot. I really need to implement this more often. I love nights like this, even for no special reason!

Dinner At A New Spot. B and I are both big subscribers to routine, so we frequent the same restaurants often, and we even order the same things most of the time. I love the idea of dressing up and getting out to try some place new. Maybe there is a new hot spot in your city that you've been dying to try. Valentine's Day could be the perfect occasion for that. Sometimes we even do our real 'date' the night before or after the actual holiday to cut back on crowds, but that may just be us!

Comedy Club. My husband loves to laugh. We have been together for over six years and have never been to a comedy club together. I know there are a few in Baltimore, and I would love to plan a night for us to get out and just laugh together. Consider this added to my 'Before Baby Bucket List!'
Now that I've taken the time to sit down and brainstorm all of these ideas, it has me wanting to make big new plans for Valentine's Day tomorrow! Maybe a game night is the perfect solution for us this year.
What are you doing for the big day?!