My pregnancy has flown by so far. I can't stop thinking about how lucky I am to have felt so good throughout these early months. 16 weeks feels like a pretty big milestone to me. We're into the time that the sex can now be determined (soon!) and we're getting so close to halfway!
The last two weeks were kind of a blur. I had two quick business trips flanked by the AFC Championship game, and of course, the Super Bowl. A big day in our house.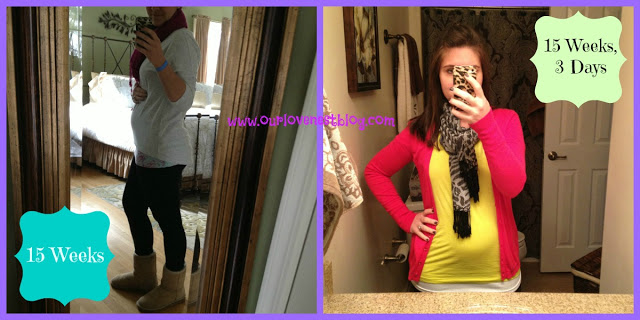 We are getting so close to finding out the gender of our baby, and I am so excited it is making me horribly impatient. Just the fact that there is technology readily available to tell you if you

'

re having a boy or girl blows my mind. But, I would be lying if I said I wasn't DYING to pull the trigger on all of the adorable things I have already started to find for the nursery.
My solution is to start pulling together an inspiration board as SOON as we know the gender. Is it time yet?!
How far along are you? 16 weeks as of 2/5/13 (today!) 2nd Tri
How I'm feeling: Feeling great! Heartburn is raging most afternoons, but luckily I was already used to that. Normal energy level is creeping back and my appetite is definitely growing.
Total weight gain: 0.5 lb as of 1/8/13 -weighing in tomorrow (2/6) again!
How big is baby? Size of an open hand! How amazing is that? The growth happens SO FAST.
Maternity clothes: Same old story. Old Navy cotton tanks and tops, and just invested in a few Gap maternity tops, which I adore. Planning to do a little more shopping in the coming weeks.
Stretch marks? Nada. Belly button is in full force. I can even see it beginning to pop out of some tops.
Sleep:

Up at least twice per night to pee. Already. Pretty comfortable but definitely considering ordering a Snoogle soon.
Best moment this week

:

Appointment on Wednesday, 2/6 to check on the baby, and then finding out the gender for Valentine's Day. Does it get much better than that?!
Movement: Feeling sensations more and more, and definitely feeling more pregnant. My lower back is already starting to get sore

in the evenings

.
Food cravings: Still loving anything sweet. There is just nothing that satisfies me quite like the perfect sweet at the perfect time. And my intake of carbs is starting to scare me. I am trying to balance healthy and a bit of indulgence the best I can.
Food aversions: No aversions, but when the mood strikes, there are certain things I just need to have and nothing else will suffice.
Labor signs: Nope.
Belly button in or out: Like I mentioned above, I am already able to see my new 'outtie' popping out of some tops from time to time. Sheesh, things are going to get scary.
What I miss: Drinking a glass of wine. Luckily, my fellow preggo buddy Shannon suggested an alcohol free wine I'm just dying to try!
What I'm looking forward to: My 16 week appointment tomorrow and finding out the sex right around Valentine's Day! The closer it gets

, the further away it feels!
Milestone:
The Ravens won the Super Bowl and this baby's Daddy swears he or she was the good luck charm that helped everything fall into place. What a year for B's favorite team. And, I can't wait to hear that heartbeat again tomorrow.