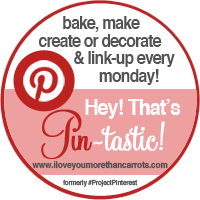 Last week I had one of those weeks where things just fell into place. I was motivated and moving through my to-do lists, ran most of my errands, and even squeezed in some time for some of my favorite girlfriends.
One of the things on my to-do list was to frame a new printable that I had found here on Pinterest and make it all pretty like they did here. I think it's safe to say that I have become addicted to all things 'Kitchen-Weekly-Planner' so I just couldn't help myself when a new printable that will hold my schedule, meal plan and shopping list all in one became available!
Once I had the printable in my hands, it was time to find the perfect frame. Something fun, but not overwhelming. It was also important that this frame go well with the rest of the Kitchen Command Center I had created a few months ago.
So, off to Hobby Lobby I went, and after about twenty minutes of searching, I found the perfect frame.
DIY Framed Magnetic Weekly Planner
What You'll Need
One (1) copy of your weekly planner printable of choice (printed as standard 8.5x11")
One (1) 8x10" picture frame
7-10 round magnets
Hot glue gun
At least one (1) glue stick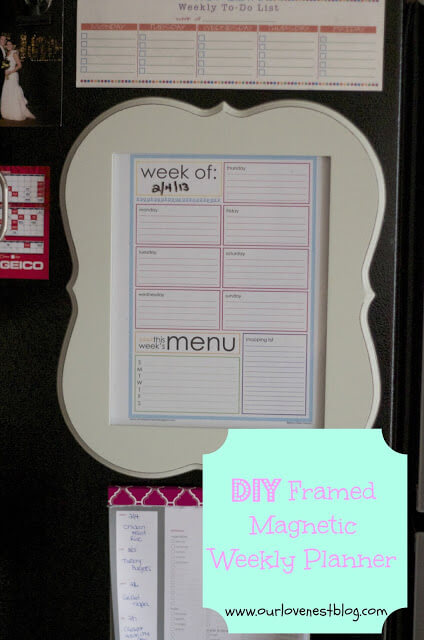 I started by cutting the printable down to match the size of the paper mounted inside of the frame when I bought it. I made sure to cut it evenly so no parts of weekly planner were removed.
Then, I placed the printable inside the frame and closed the frame using the hardware on the back.
I had purchased a small package of strong, round magnets to use on the frame. I glued two to each corner for a total of eight (8) magnets adorning the back of the frame.
After allowing the glue to dry for a few minutes, I slapped the frame onto my fridge and voila! It stuck easily and the hold is firm, but still easy to move around if need be.
Now we have one place to keep our schedule, meal plan, and some of our shopping/errand list. I love how clean and finished the frame made this project. I am now in the market for a slightly larger frame that will fit neatly around my monthly fridge calendar. Hoping to link that up in a few weeks!
Be sure to head over and check out the rest of the inspiring Pinterest projects over on this week's 'Hey, That's Pin-tastic!'