Every once in a while, I come across a new recipe that was shared by a friend or family member that becomes a true staple in my kitchen. This is exactly what happened a few weeks ago when one of my besties shared her favorite recipe for Chicken Fried Rice.
It is worth noting that B and I love a good stir fry, and have been known to order chinese takeout for dinner on several occasions.
We have tried many times to make the perfect at-home fried rice, and each time we decided that something was still missing. We tried chicken, shrimp, with and without egg, and even tossed in all kinds of veggies.
This Chicken Fried Rice recipe did not disappoint. And I now know how important sesame oil is.
Chicken Fried Rice Recipe (originally found here)
What You'll Need
4-5 cups rice (prepare via package instructions; I only had white on hand, but will sub brown in the future)
2 boneless, skinless chicken breasts cut up into small chunks
2 cups prepared mixed veggies (I had frozen mixed peas, corn, carrots)
1 small white onion, chopped small
2-3 gloves minced garlic
2 eggs
4-5 Tbsp sesame oil
1/4 cup soy sauce
Sesame seeds
Teriyaki sauce (optional; we used when cooking the chicken)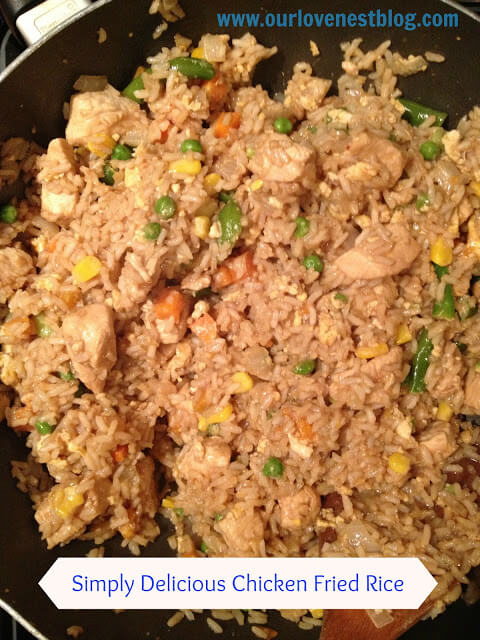 We started by cutting up the chicken into about one inch cubes and then pan frying them in a little EVOO and teriyaki sauce until they were cooked through. I added sesame seeds just because I like them.
While your chicken is cooking, begin preparing the rice.
Then, heat sesame oil in a large pan or wok over medium heat. Once the oil is warm, add your onion, garlic and mixed veggies.
Allow this mixture to cook until the veggies become tender, Then, add your eggs right into the mixture and scramble. Blend everything well.
Once this mixture is cooked through and blended well (about 8-10 minutes total), add your cooked rice and chicken and stir. Then, add soy sauce and mix everything together. I allowed everything to simmer for another 4-5 minutes before removing from heat.
Serve piping hot!