When Megan asked me to participate in the 'Trendy Tot' linkup, I wasn't sure if I had the right 'expertise' or experience to offer advice at first.
Then I thought about it some more and decided that I am definitely not the only one out there who is expecting their first baby, so why not offer up my advice, opinions and thoughts on the styles I'm planning to use one our Baby Boy arrives.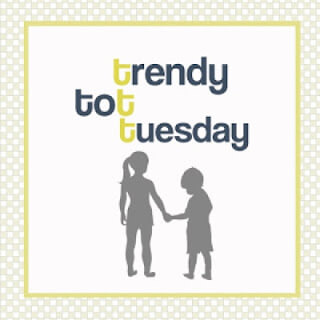 I would say that I have a little bit of a shopping problem. This problem normally presents itself in the form of online shopping, which I can easily and painlessly do from the comfort of my home office while I sit in PJs on a cold, Monday morning.
Almost the minute we found out we were having a boy, I knew there were a few items I was going to order to start Baby Boy's wardrobe.
I started with the basics. Snagged a few one-piece sleepers that can be worn any time of the day from Kohl's, then moved on through the Carter's BOGO sale and scored some adorable threads clad with MD crabbies, perfect for late beach trips this fall.
What I didn't anticipate was how many gifts and hand-me-downs would make their way to me so quickly after finding out he was a boy! I went from having four to five outfits, to having a drawer full of baby clothes just waiting on Baby Boy's arrival.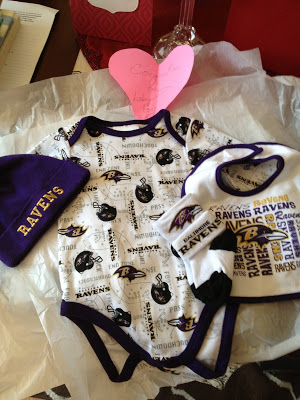 For Valentine's Day, Baby Boy received this adorable Ravens gear from my in-laws. Just what Daddy ordered after the Ravens won the Super Bowl this year. This boy will surely be raised in a divided household. The Jets gear hasn't even begun to come in yet! I can't wait to dress him up for gamedays in comfy pants and a team onesie. Oh, and being able to drink a beer during a game again will be pretty cool, too.
After heeding the advice of some of my Mommy friends, especially those that are dressing little boys every day, I headed straight to the Baby Gap website and started perusing their goods.
I just die over the entire 'First Favorites' collection, and have already ordered Baby Boy a few pairs of pants and a onesie or two. I plan to add to this collection over the next few months, and to take advantage of the sales that they offer!
If you're in the market for some comfy and good quality baby clothes, check out the Gap sale going on now through March 2nd! You think I have a thing for gray, blue, orange and stripes?!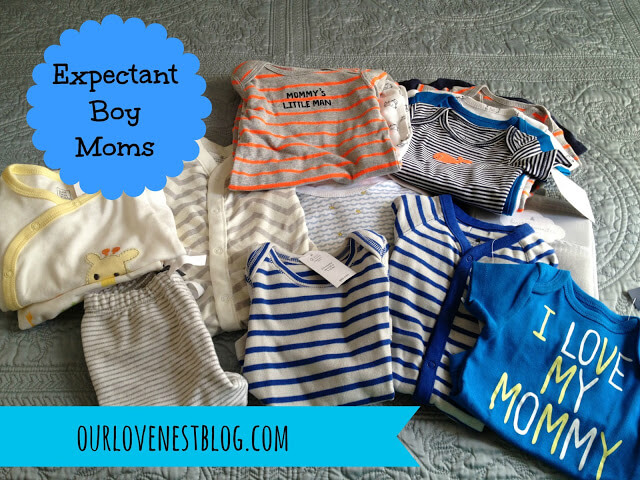 I plan to come back most week's to link up the new styles, brands and opinions I am developing in my time before Mommyhood, or even just to share a favorite new outfit that we've been gifted with.
Will you join us and link up your current favorite styles for your kiddos?!
***Link-up Info***
Trendy Tot Tuesday is a chance to talk about kid's style, and pretty much anything goes. Pictures of your cutie, talking about their style (that you buy and dress them in, ahem!), a Polyvore board, linking to the new kid's line at the Gap - anything! All ages welcome, from you sweet pregnant mamas stocking up a closet to the teenagers that probably pick all their own stuff out now ;)
This is a hop-style link up - please follow your hosts (Kelly, Lindsay and Megan), and jump around to meet other bloggers! We hope everyone gains some new followers from this link up and finds some fabulous new blogs!
I was in no way compensated for this post. The opinions are solely my own.