It is hard to describe just how amazing these last few weeks have been. I think I am officially 'far enough' into my pregnancy to claim that I actually enjoy being pregnant, at least for now. There is just something so amazing about what your body can do to house and grow another tiny little human.
I have been feeling really good, well except for all the heartburn. I feel an even stronger love and connection for the baby now that we know he's a BOY. And, I've started feeling lots of movement sensation. It happens mainly in the afternoon and evenings and/or after I eat. Sometimes it startles me, but I love that it's happening more and more.

How far along are you? 18 weeks as of 2/19/13 (today!) 2nd Tri
How I'm feeling: Feeling great for the most part. Getting mild to moderate heartburn on and off most days, and still getting the occasional headache, but other than that, I feel like my normal self!
Total weight gain: 2.5 lb as of 2/6/13
How big is baby? Size of a sweet potato last week - this week is a large mango!
Maternity clothes: My mother-in-law took me shopping for some new stuff last weekend and I finally found two pairs of maternity jeans that are comfortable and adorable! It's amazing what a good pair of maternity jeans can do for your confidence with a growing baby and body.
Stretch marks? Nada.

But I'm on the hunt for a good lotion so I can be proactive!
Sleep: Up at least twice per night to pee. Already. Falling asleep easily as long as the room is quiet.
Best moment this week

:

We found out the sex of the baby on 2/13. We are having a baby BOY and we are absolutely elated. I have already started planning t

he

nursery and may or may not have ordered the rug and curtains the day after we found out.
Movement: Feeling a LOT of movement sensation, especially in the afternoons and evenings. It is so cool to be able to feel the little guy wiggling around in there.
Food cravings: Still the same. Carbs and sweets, carbs and sweets, carbs and sweets.
Food aversions: No aversions at this point.
Labor signs: Nope.
Belly button in or out: I am surprised at how quickly my belly button changed. But, it has definitely changed to an outtie and I am starting to notice it through my tank tops already.
What I miss: Drinking a glass of wine and a few pairs of pants that I won't venture to squeeze into at this point!
What I'm looking forward to: My 20 week anatomy scan on the 27th and getting to see our baby boy again.
Milestone:
The night we found out we were having a boy was one of the best of my life. We are overjoyed and have already started talking names a lot more often.
I can hardly believe that the middle of my pregnancy is so close. My head is spinning with all things nursery and I'm starting to get so excited for what our baby boy will look like in all of the cute outfits we've already gotten as gifts.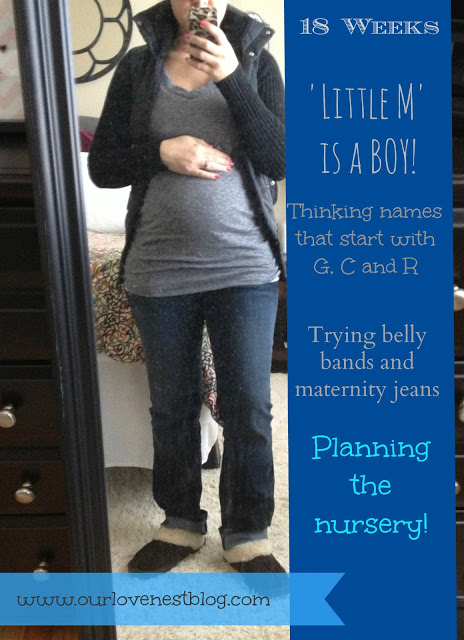 We have lots to do over the next few months, and I cannot wait to update you on our house projects, the nursery and more!