I am new to this whole 'pregnant, maternity, Momma-to-be' part of my life, but I feel like I'm learning quickly what works and doesn't work for me. Isn't that what we are all faced with in the months we are pregnant? As long as forty weeks really is, it seems to fly by.
If there is one thing I do know, it's how to shop. I was raised in a family of mostly women with a mother who liked to shop. So, it's in my blood. I love to buy a new top just for one night out, and I am rarely seen in the same dress at more than one or two fancy functions. I don't splurge on super expensive threads, but I do shop, and my closet is practically bursting at the seams with an eclectic collection of styles, colors, cuts and brands.
For the first twelve weeks of my pregnancy, there was really not much need for any maternity garb. But, in my world, there is always a need for online shopping of some sort. Or at least browsing.
I wanted to start with the basics. My schedule is always changing and very flexible, so I knew my wardrobe would be the same. And, since I already owned at least ten pairs of leggings, I decided I would put them to good use until they started to get uncomfortable.
Lucky for me, I have friends and family who have been to this rodeo before, and they were more than willing to share their tips, tricks and advice with me. I adapted their advice, my style and what I find myself grabbing from my closet most mornings and put together my own Maternity Fashion post.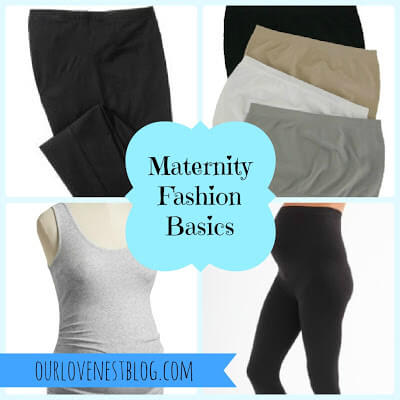 There were three things I knew I would need, even in the early parts of my pregnancy, so I started by purchasing what I will call my three basic staples.
Maternity Leggings - when the band in some of my leggings began to feel and look too tight on my tiny bump, I went to two places for maternity leggings; Old Navy and Target. When it comes to size, I ordered either my pre-maternity size, or one size up just in case. Both of these legging options are full panel, so they cover most of my belly. Right now, I prefer that type of fit, but I'm sure that is bound to change once I get bigger and the weather gets warmer.
Belly Bands - After hearing that the belly band would change my life from multiple people, I bought a black one at Target and also received a nude colored one from a friend as a hand-me-down. I have to say, it is true about the life changing. I popped on a pair of my pre-maternity skinny jeans the other day with one of my bands and I was surprised by how comfortably they fit!
Maternity Tanks - This may be the most important part of this entire post. I wish someone had told me about how wonderful Old Navy tanks were before now. I swear I will wear them, pregnant or not, until they start to fall apart. If you are newly pregnant, or just looking for tank tops that are long enough, soft enough and stretchy enough, invest in any and every color that Old Navy offers. I have about six of them so far, and I plan to keep adding to my collection over the next few months. I don't know if I will ever buy another style tank again.
Once I added these items to my wardrobe, everything got much easier. I was able to style the clothes I already had around my growing bump for a while.
When I hit fourteen weeks or so, I needed a few more tops to cover up the bump. I think I popped pretty early, so my experience may be a bit different than others. When shopping maternity tops, I stuck with soft, fun, cotton and turned mostly to Old Navy and Gap.
Each morning when I stand in my closet looking for inspiration, I typically start with the top and work my way down. I found that a combination a maternity and non-maternity tops paired with cardigans, vests and scarves works best for me.
And, since I can't wear leggings every single day (much to my dismay), I thought a pair or two of comfortable maternity jeans would help to round out my collection. I went to Pea in the Pod, Gap and Motherhood to try on jeans. Truthfully, I thought for sure I would invest in a pair of Joe's or Citizens and call it a day. But, I decided to head to Motherhood before I pulled the trigger, and I am so glad that I did.
I found two pairs of jeans that fit great, made me feel great and the price tag didn't make me cringe!
I would definitely recommend investing in maternity denim. It makes me feel more put together, and like I can actually dress up on the days when the leggings just aren't cutting it. Plus, I'm sure my husband appreciates me getting a little dolled up every once in a while since my window of having enough time to get myself ready each morning is shrinking quickly.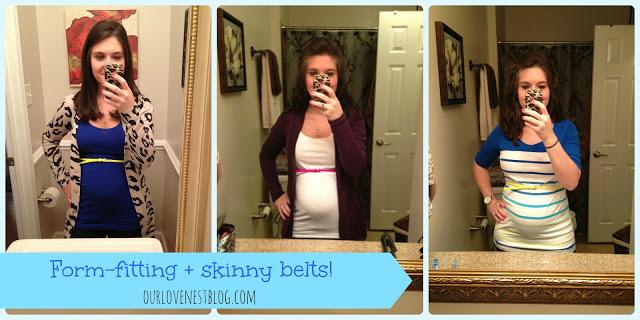 My two biggest tips for maternity wear? Rock the form-fitting tops and tanks. Show off the belly, and even feel free to grab a skinny belt to accentuate the bump and the tiniest part of your waist. Or whatever is left of it!
The three styles above have quickly become my favorites, so expect to see my in a lot more of the same over the next few months. I haven't even begun to break into my maxis and maternity dresses yet, so expect another post from me once this weather warms up and I've grown a size or two.
Where are your favorite places to shop maternity?