I am so glad that AP started this linkup. I love having a reason to get my most recent Pinterest projects up on the blog, and I love seeing what everyone else is working on, too!
This week, I wanted to share the wreath that I made for fall. I wanted a new wreath to adorn the french door that leads out to our deck in my kitchen. It would also be replacing my summer wreath. My inspiration started with this pin.
In typical fashion, I ran off to Hobby Lobby one afternoon with a short list of the items I would need to complete this project. It ended up being the easiest wreath I have made to date; about 15 minutes and only $15!!
DIY Fall Wreath: $15
What You'll Need
1 14 inch round twig wreath
2 fall sprigs (I bought two of the round sprigs that were marked down in the fall section that are typically used for candle surrounds)
1 roll of thick, wire-trimmed ribbon in the pattern of your choice
1 glue gun
2 glue sticks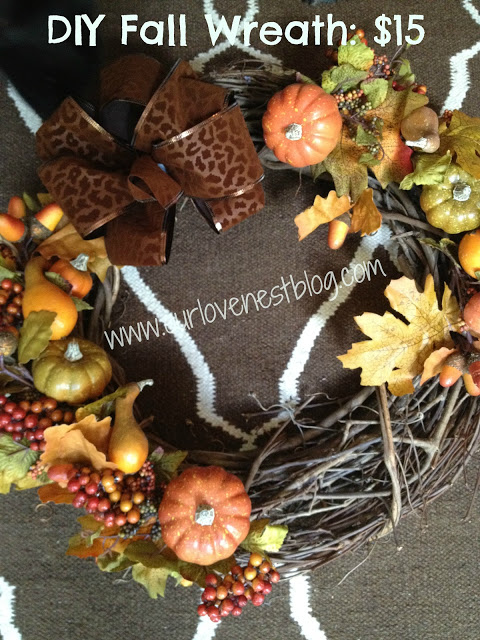 I started by deciding which way I wanted my wreath to face based on its shape, etc. Once I had this nailed down, I cut my fall candle surrounds with a sharp scissor to open them up into a semi circle shape (they started as closed circles) and lightly bent the wire to form them to the same curve as my twig wreath.
Once I had the sprigs shaped, I glued them down on opposite sides of the wreath leaving one opening between the two a few inches larger than the other.
Then, I used my fancy animal printed ribbon to create a bow. I attached the bow with a twitsy tie, and then added some hot glue for good measure.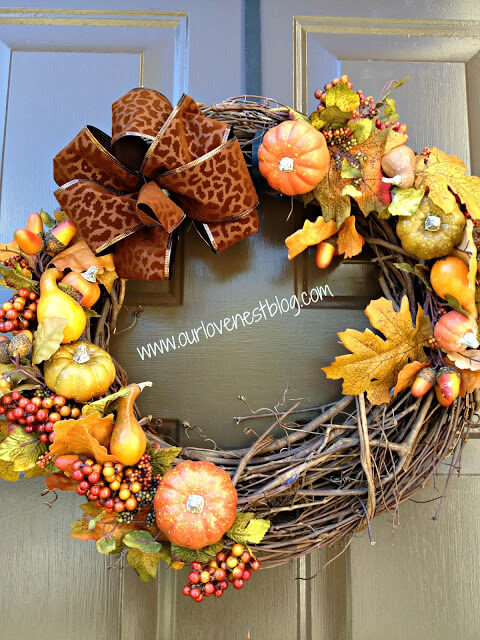 That's really it! Once I had everything glued down, I gave it a few minutes to dry and then hung it up. I even got compliments from my husband, which is a huge success in my book! You know, since he doesn't always notice the new seasonal items that I spread all over our house.
Simple fall success. Now, get your projects together and head over for this weeks Project Pinterest linkup!