A few months ago, while I was perusing Pinterest (again), I came across this pin. Naturally, I filled it away under my 'Future Littles' category and then moved on.
A few weeks later, my in-laws hired me to help them organize and re-decorate the upstairs of their house (yes, that is another one of my many side jobs). As soon as my mother-in-law told me that she wanted to use one of her extra bedrooms as a storage/craft/grandchild friendly room, I knew this would be the perfect place to put shelves like these into action!
We started with a medium-sized open wall space in the room, and went from there. I found these shelves from Home Decorators and knew they would be perfect, and not at all time consuming!
DIY Wall Hung Children's Bookshelf Reading Corner
What You'll Need
3-4 'Euro Floating Wall Shelves (screws included)
We purchased four of these shelves, but only ended up hanging three of them in this section of the room. We will likely use the fourth shelf for another space in the room to display pictures, etc.
A Hammer/screw driver/drill of your choice
An open wall space
Oodles of children's books!
Simply follow the instructions that come with the shelves to hang them. We spaced ours about 2 feet apart on each side to allow for books of all sizes to be placed on the shelves.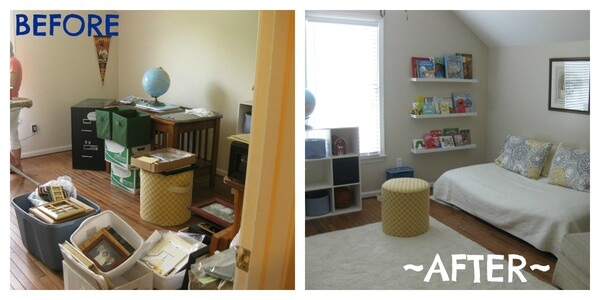 I absolutely love the way this project came out. The shelves are sleek and simple, and have a lip on the front of the to hold the books in place! Once the shelves were hung, the whole corner of the room had such a fun and inviting vibe. I know that we will definitely be creating something similar to this in our home home once we have kids!