Happy Monday, lovelies! I hope you all had as wonderful a weekend as I did. I got to catch up with lots of friends and threw a 'Sprinkle' for one of my
besties
at my house yesterday. Needless to say, our weekend was blissful and exhausting!
Last week, in preparation for this past weekend's event, I ran a bunch of errands (read: shopped at Target too much) and also came home with a huge grocery order. Obviously, a large grocery order called for a week's worth of yummy meals, so today, I'm linking up with
Molly
again for my 'Weekly Eats/Menu Monday' post!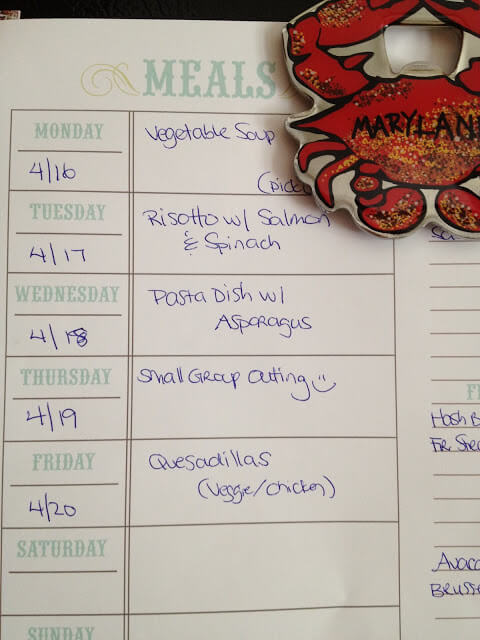 This week, I planned for a week chock full of savory meals, starting with my Mom's
Vegetable Soup recipe
. Do not miss it! I especially love making soup at the beginning of a week so we have the leftovers to eat all week long for lunches and snacks!
The rest of the week is rounded out with my new go-to or Spinach and Salmon Risotto, which really deserves a post all its own, followed up by a new pasta recipe I got from another friend. And, we'll finish off the week with chicken and veggie quesadillas; always a crowd pleaser!
As always, thanks Molly for the inspiration, and for hosting!
**Make sure to check back this week, we're announcing the Estrea Product Set winner tomorrow (4/17) and kicking off a brand new giveaway from Bridier Baubles on Wednesday!!