Earlier this week, I posted about the '
Baby Sprinkle
' that I helped throw for one of my very best friends. It's no secret that many of the ideas we used for the sprinkle were Pinterest inspired.
When my 'creative wheels' started turning, I quickly came up with a list a mile long of projects I wanted to tackle before the 'big day.' Naturally, I had to narrow that list down some, but there was one project that always stayed on my radar.
I came across
this pin
when I first started my search for 'baby girl' shower ideas. Instantly, I knew I had to make one of these 'Rattle Wreaths.' I also knew I would most likely have to employ the help of my Mom. You know, since she's way better with a glue gun than I am!
DIY 'Rattle Wreath' How-To
What You'll Need
One (1) wooden dowel ( I bought the 10-12" ones)
One (1) 5" styrofoam ball
One (1) 2" styrofoam ball
One (1) spool of solid colored ribbon
1-2 additional spools of solid/patterned ribbon that go with your 'theme'
One (1) can of white spray paint
4-5 bunches of flowers (your choice here; we used pink and white hydrangea)
Glue gun
Glue sticks
Craft pins (optional)
Begin by spray painting your wooden dowel (note: you may need 2-3 coats for full coverage).
While the paint is drying, you can start snipping each of the flowers/buds off of their stems. We cut ours right below the actual flower, leaving just a touch of the stem attached to use to press into the styrofoam balls when gluing.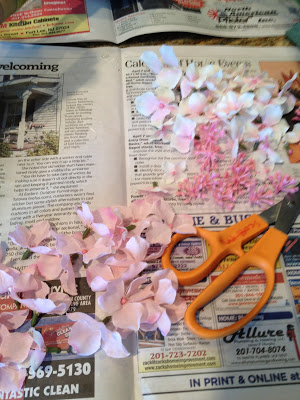 Once your dowel is dry, wrap one of your solid colored ribbons around it to cover. Then, press the ends of the wooden dowel into the styrofoam balls. Once you have created an imprint in the styrofoam, fill it with hot glue and press the dowel into each ball (one at a time) and allow to dry for a few minutes (see picture below).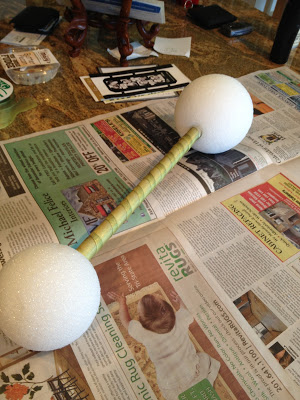 Once your structure looks like the picture above, begin gluing you individual flowers on in a pattern of your liking.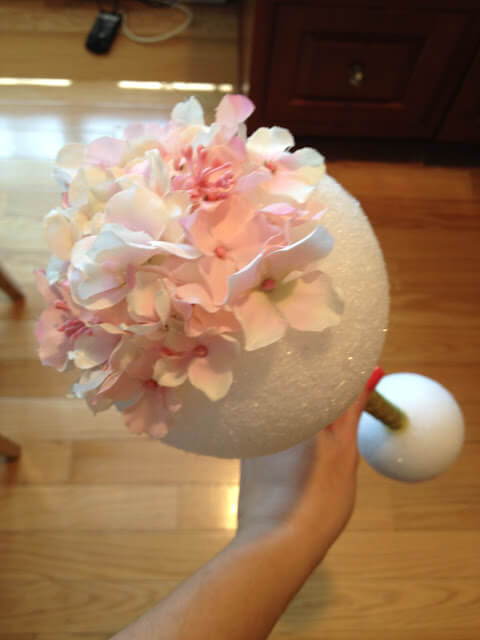 Continue adding the flowers until both balls are completely covered, and the styrofoam is no longer visible. We used the same method throughout all of our gluing: add glue to flower stem and then stick stem into styrofoam for extra hold.
Once you are finished with adding your flowers, add a long piece of ribbon (or 2!) and tie into a pretty bow in the middle of the dowel. We also added a small, wire 'hook' onto our ribbon so the 'wreath' was easier to hang from your desired location.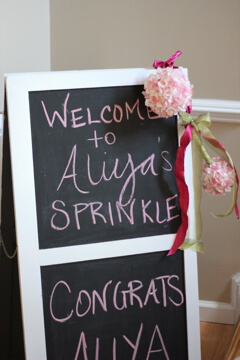 The process is a bit time consuming, overall, but the end result is totally worth it! I even gifted my friend with the wreath so she could take it home and use it in her nursery!!
A special 'thank you' to my Mom for helping me recreate the pin that inspired this project - I just love the way it turned out!