My Mom, sister (MOH) and bridesmaids threw me a beautiful bridal shower last year near Hometown, NJ at none other than The Brownstone. Yes, that
Brownstone
(in case you were wondering). They thought of
everything
. I had already been to my fair share of bridal showers, but they surprised me with all of the little touches they added to make it a special day for me.
One of the things that they asked each guest to do was to bring a recipe with them to the shower. They sent out recipe (or index) cards with each invitation, and included a note asking each guest to bring along a favorite recipe to add to the new "M" family kitchen!
I received a ton of great, new recipes this way, some of which I have already shared here with you over the last several months. But, there are still more to come! Our schedule has been so crazy these days that I haven't had as much time as I'd like to get back into my kitchen and try some new things! But, when I do? This next recipe will be one of the first things I am trying!
A sweet friend of mine (who also happens to be one of the most talented and creative people I know), not only came up to NJ from Virginia for the day, but brought along a wonderful, handmade recipe card for my collection.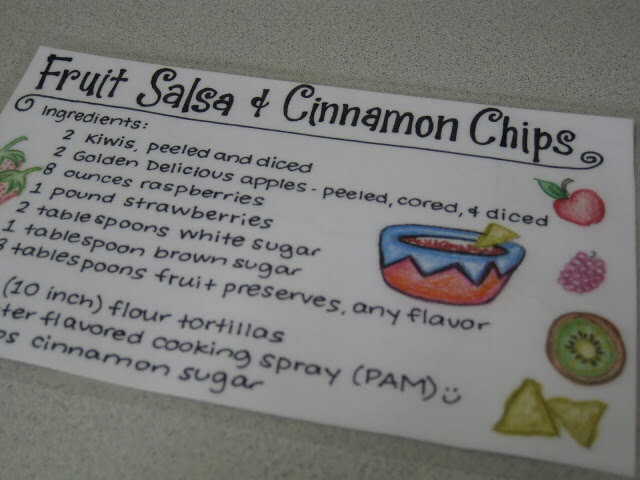 Is this not the sweetest thing you've ever seen? How talented is she?!
Fruit Salsa & Cinnamon Chips Recipe
Ingredients
Fruit Salsa
2 kiwis, peeled and diced
2 golden delicious apples, peeled, cored and diced
8 ounces raspberries
1 pound strawberries
2 Tablespoons white sugar
1 Tablespoon brown sugar
3 Tablespoons fruit preserves (any flavor)
Cinnamon Chips
10 (10 inch) flour tortillas
Butter flavored cooking spray
2 cups cinnamon sugar
Preheat oven to 350.
In a large bowl, mix together kiwi, apples, raspberries, strawberries, white sugar, brown sugar and fruit preserves. Cover and chill at least 15 minutes.
Coat one side of each flour tortilla with cooking spray. Cut tortillas into wedges and arrange in a single layer on a large baking sheet. Sprinkle wedges with desired amount of cinnamon sugar, then spray again. Bake coated tortillas in the oven for 8-10 minutes. Repeat with any remaining tortilla wedges.
Allow wedges to cool for 15 minutes. Serve with chilled fruit mixture.
Seriously, how simple and adorable is that?! I might be making an extra trip to the store for these ingredients soon. Err, maybe I'll ask B to go for me, since we all know how well I react to grocery stores!