This weekend was a wonderful, emotional and memorable one for me.
My best friend from college, Melissa, got married. Since I was a bridesmaid, I had been involved in the planning of her special day from the beginning, but I have to say, the weekend was so beautiful and so perfect, that is blew my expectations right out of the water!
From the moment we arrived on the Eastern Shore, and saw how absolutely happy and calm Melissa was, I knew the weekend was going to be amazing. From the dresses to the centerpieces, everything was absolutely stunning, and was a spot on representation of Melissa.
One of the best things about weddings (other than celebrating the bride and groom) is how many people you can get into one room! I got to see so many of our college friends that I barely ever see, and of course, those that I see all the time, as well. Everyone had a wonderful time reuniting, drinking and dancing the night away!
My question is: after seeing how beautiful and perfect all of my friends weddings' have been, how will I mine ever compare?! At the very least, I will have a wonderful set of women with great taste and lots of experience to help with the cause!!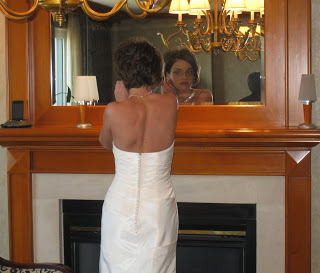 The beautiful bride about ready to lose her maiden name!