I'm not ever sure where to begin!
I guess I can begin by saying that yes, I am alive and well, and I will admit to my lack of time spent at the computer keeping things updated over these last few holiday weeks! There is so much that has happened (including a nasty flu/stomach bug that had me bed-ridden for two days, ugh!), so I'll give you the short version.
Christmas week we were in Philly, NYC, NJ and MD! The week started with Mike and Ashley's move to their new "puppy-proof" house. Ash and I let the boys do all the heavy lifting, while we focused on the important things like what color curtains to buy, and which dishes looked the best on display above the kitchen cabinets, clearly. I must say, despite the craziness that was that weekend, we accomplished quite a bit! To have almost all of your curtains hung before your boxes are all unpacked is a remarkable thing.
B joined me at mike & Ashley's after work that Sunday night, and we did a little Christmas gift exchange with them before heading off to my parents house in North Jersey.
In true "adventurous couple" fashion (haha, right), we made our way into New York City because B had never seen it decorated for Christmas! Even though I definitely do not consider myself a city girl, I grew up outside of NYC, and know that it is a must-see when it's all shiny and decorated. Needless to say, we enjoyed our short time strolling around the city, and making frequent pit stops inside the Shops at Rockefeller to warm up. I swear, it must have been the coldest day of the year! Here's a little of what we saw: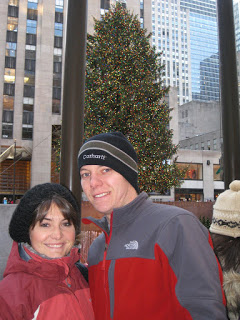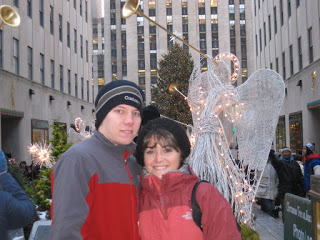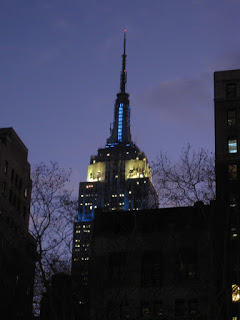 Another one of the advantages of taking a trip into the city (and probably the best thing) is that we get to visit Amber! We finally made it up there for a dinner date with the newly engaged Amber & Phil. We had a quiet and relaxing home-cooked italian meal at Amber's and just sat around and caught up. Nights like this really make me wish we lived closer!! But alas, thanks again to Amber & Phil for hosting and feeding us - we're waiting for your next trip to VA!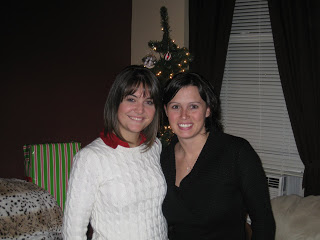 After our short trip into the city, we made our way back to my parents house for a little more debauchery and playtime, before all of the Christmas Eve/day festivities began.
We ventured out and met up with some of my best high school friends at a local bar conveniently located right down the street from my parents house. I absolutely love reunions with old friends, especially those you only get to see a few times a year, if that! We had a great time, and Jenn and Kyle announced that they were pregnant!!!!!! Cannot believe there will be a little addition to their family coming this year, it's so exciting!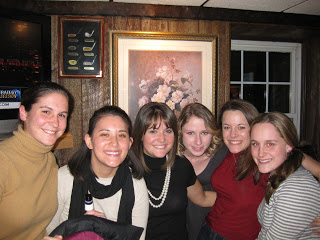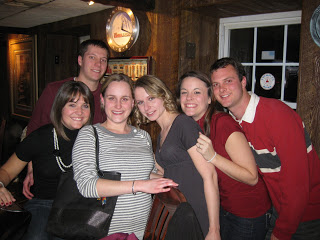 I guess that leads us up to Christmas! This year definitely goes down in the record books for me. Not only did I get most of the things on my
Top 10
list, but I got to spend Christmas Eve and Christmas Day with my family and B. We had a wonderful, relaxing time on this visit, and everyone loved their presents! My Mom even cried when we gave her all of the pics that were taken in our
photo shoot
with Melissa!
Here are a few cute ones from Christmas: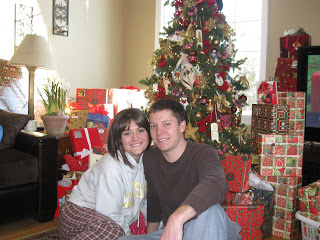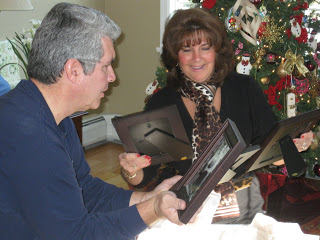 Well, Christmas 2008 was a total success! I better start making a list of ideas for next year! Too soon?!
We spent the next few days celebrating Christmas with the Mellott's in Maryland, and recovering from all of the travel, oh and don't forget that nasty bug that got both B and I down last week, I do not recommend it.
New Years crept us on us, in it's typical fashion. We had plans to attend a house party at Friendship Lane, as I had mentioned before. The party was a total success, and we had so much fun ringing in 2009 with lots of our closest friends! Since this is basically a photo journal, here are some more pics: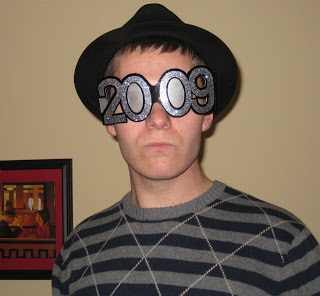 Obviously, I had to add this pic, it is so Brandon.
I hope you all had as wonderful a Christmas and New Years as I did! Happy 2009!