This post is part of a social shopper marketing insight campaign with Pollinate Media Group® and All You, but all my opinions are my own. #lifeforless #pmedia
http://cmp.ly/3/8vNxcO
One of the things that I looked forward to most when B and I were going through the home buying process was the chance to finally have a kitchen of my own. I could paint it the color I wanted, decorate any way I chose and fill the cabinets with all of my goodies just for us.
I always knew that my kitchen would be the 'heart' of my home. I love to cook and entertain, so the kitchen is the room in our house where the most time is spent, the most love is whipped up in the form of meals, and the most elbow grease is applied to keep it looking shiny at the end of most days. Most weeks, when I'm not feeling lazy and grossly pregnant, I plan the week's meals ahead of time. I have found that this makes my grocery shopping, budget planning and the day-to-day preparation for dinnertime that much easier.
While doing my weekly grocery shopping at Harris Teeter over the weekend, I was in need of some fresh kitchen inspiration, or at least to be reminded of my love for cooking and how much more smoothly things run in my house when I get into a rhythm. So, I picked up a copy of the July Issue All You Magazine and I was instantly blown away. I found pages filled with recipes, fashion tips, health advice, and even coupons! It was exactly the motivation I needed!
As I browsed through the pages of recipes (we're talking over 12 new ideas here), I came up with some ideas of how to use the food that was already in my fridge to recreate some of our favorite meals. And over the last week, I have was motivated (and hungry) enough to get back into the kitchen and prepare a few hot meals for us to enjoy.
Shrimp Scampi with a Veggie Twist
What You'll Need
3 Tbsp. butter
2 Tbsp. Olive Oil
1/2 Medium onion, chopped
4 cloves garlic, minced
1/2 cup white wine (I use dry cooking wine)
2 Tbsp. lemon juice
2-4 dashes of Hot Sauce (I went light here)
Salt & pepper to taste
1/2 cup grated parmesan cheese
Parsley (fresh or dry) to taste
1lb. large, raw shrimp
8oz. Pasta (your choice - I used linguine)
1 bunch fresh asparagus
2 cups steamed spinach
Begin by boiling water for pasta. Have pasta ready to add. Then, heat olive oil and butter in a large skillet over medium heat. Add onions and garlic and cook for 3-5 minutes, or until onions are cooked through. Then, add shrimp, stir and allow to cook for a few minutes.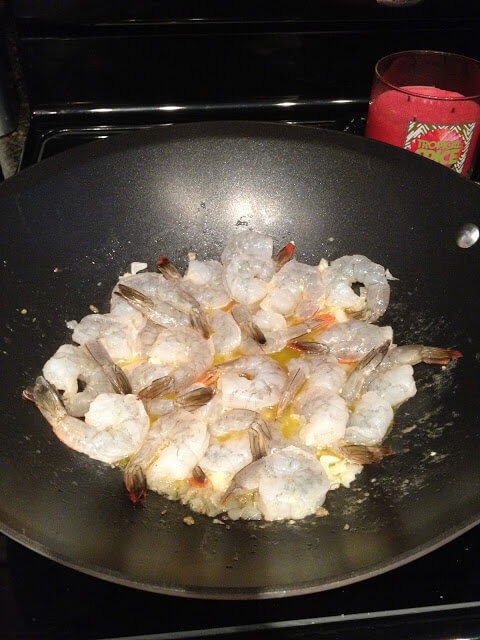 Next, add lemon juice, wine, salt & pepper and hot sauce. Stir everything together and reduce heat to low.
Meanwhile, either sautee spinach in a large pan with olive oil, or add olive oil and spinach to large mixing bowl and microwave for 2 minutes. Then, sautee asparagus spears for a few minutes until softened.
Then, toss your pasta into shrimp and sauce mixture. Add parsley and parmesan cheese and mix through. Finish by adding the spinach and asparagus and mix well.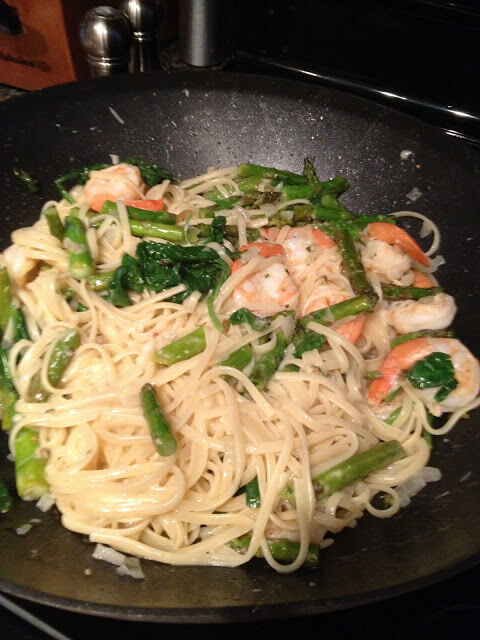 You may start to notice a theme here. Give me a recipe that includes a protein, some pasta and a healthy portion of veggies and I am a happy girl. I love to make the recipes with my own ingredients, because then I can choose organic, fresh and substitute things like butter and oil.
Chicken Fried Rice Recipe
What You'll Need
4-5 cups rice (prepare via package instructions; I typically use half white, half brown)
2 boneless, skinless chicken breasts cut up into small chunks
2 cups prepared mixed veggies (I had frozen mixed peas, corn, carrots)
1 small white onion, chopped small
2-3 gloves minced garlic
2 eggs
4-5 Tbsp sesame oil (I typically flavor ours some more with an additional Tbsp or two)
1/4 cup soy sauce
Sesame seeds
Teriyaki sauce (optional; we used when cooking the chicken)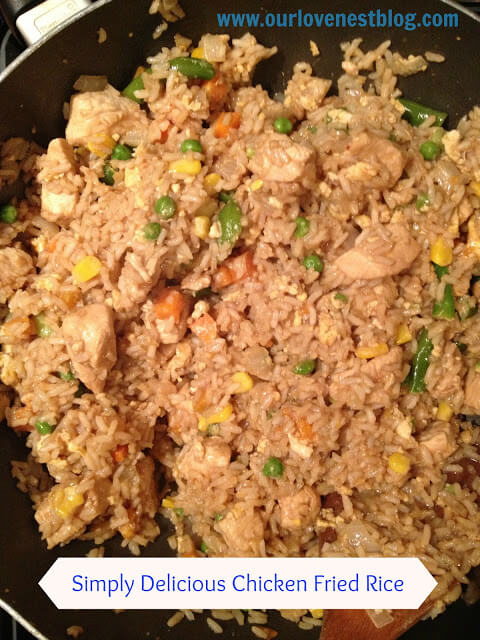 We started by cutting up the chicken into about one inch cubes and then pan frying them in a little EVOO and teriyaki sauce until they were cooked through. I added sesame seeds just because I like them.

While your chicken is cooking, begin preparing the rice.


Then, heat sesame oil in a large pan or wok over medium heat. Once the oil is warm, add your onion, garlic and mixed veggies.
Allow this mixture to cook until the veggies become tender, Then, add your eggs right into the mixture and scramble. Blend everything well.


Once this mixture is cooked through and blended well (about 8-10 minutes total), add your cooked rice and chicken and stir. Then, add soy sauce and mix everything together. I allowed everything to simmer for another 4-5 minutes before removing from heat.
Serve piping hot!
All of that cooking got me excited to get back into my groove, and I was even able to save on my grocery budget by redeeming some of the coupons I found right inside my All You magazine. My husband is eternally grateful for both of these things. Now he can start looking forward to warm, homemade meals again, and I am even making an extra effort to save us a little money by taking advantage of all of the coupons I found in All You this month. Plus, there are so many new recipes to try! I think I'll be giving the Vegetable Calzones and Roasted Shrimp, Avacado and Bean Salad a try to start.
I can barely wait to find out what next month's issue has in store. I am bound to find more recipes, ideas and lots more savings. And, if you're not a lover of cooking, the magazine has lots more to offer as well. Lots of articles for 'Your Self,' 'Your Health,' 'Your Home,' and even craft ideas like 'How to Freshen Up Your Garden' using old lamps and other items you can find around your home.
To find the nearest store where you can purchase All You Magazine, as well as a money saving coupon to purchase your copy of All You Magazine, click here ( www.allyou.com/value )