Whew, this post has been a long time coming. I finally spent a few hours in the nursery over the weekend organizing, unwrapping and setting up most of G's new things, and with the help of my handy husband, got the room into shape that I deem almost complete and perfect enough to bring our little man home to!
You may remember back when I wrote about the
inspiration board
I was using for G's nursery. While some of the items and the overall colors have stayed the same, there are a few things that I changed over the last few months in order to save money, or complete the look that I was going for.
I started with the furniture, rug, curtains and artwork pictured below.
Originally, I had grand plans of purchasing expensive bedding from Carousel Designs, but then changed my mind after I realized the $200 bumpers would likely get things like pee and vomit on them. So, I turned to my favorite store (Target, duh) and found an adorable complete set for under $100! Since I saved some money by opting for the lower priced set, I was able to purchase the bumpers and a few extra sheets and blankets to accent my favorite colors in the palette.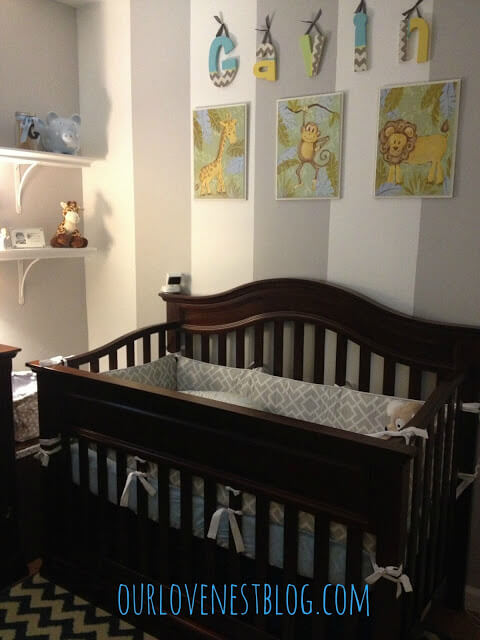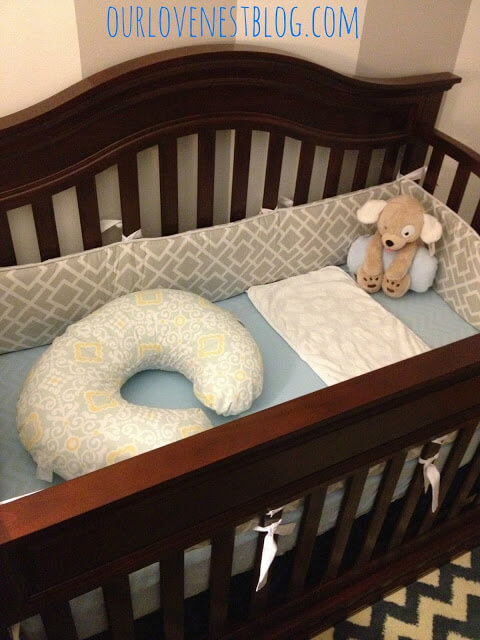 My in-laws purchased our Best Chairs glider for us and it would be an understatement for me to say that I'm in love with it. It is, without a doubt, the most comfortable piece of furniture that we have in our entire house. I mentioned the rug and curtains in the inspiration post (sources listed below) and the paint color was Behr's 'Gentle Rain.' The striped wall may be one of my favorite accents in our house. I love the way it adds depth and texture to the wall behind the crib.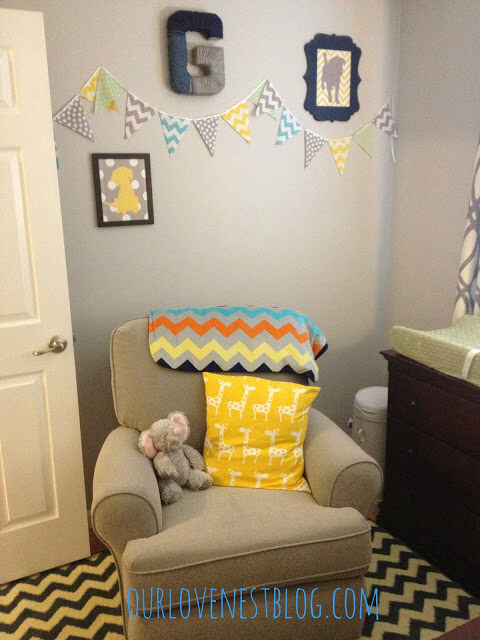 The small items you see around the room were mostly gifts from family and friends, including Gavin's very first piggy bank; a gift that his Daddy is already excited about and proud of. Next to the bank there is also a homemade prayer jar (made by my sister) which holds the names of many of our family and friends and will be used when teaching Gavin to say his goodnight prayers. We will select a stick each night, and say a prayer for those special people in our lives. So sweet! I may have gone a bit overboard on the use of the letter 'G' throughout the room, but I just couldn't help but display each of the handmade letters that were given to us. Both of my sister-in-laws made us a unique 'G' and the hand painted letters you see above his crib were painted specifically for Gavin by my cousin.
This may be the smallest room in the house, but it definitely took the most love and time to put together, and we are so excited for the day that we get to see our little man in his crib, or rocking in his glider with Mommy or Daddy for the first time.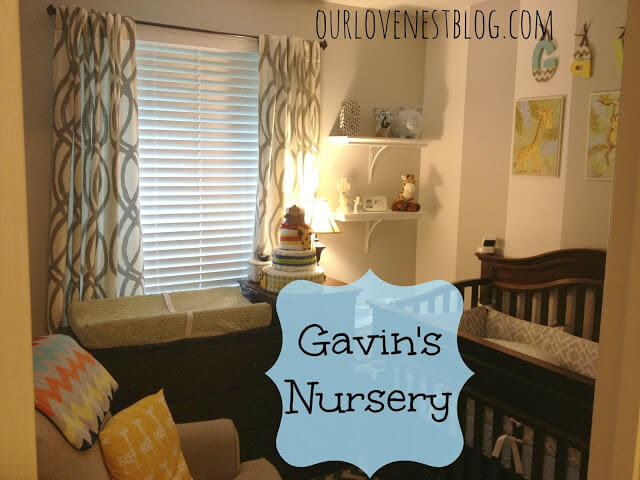 If you need me, I'll probably be rocking away in that pretty glider imagining our sweet boys' face and praying about the day that we finally get to meet him.
I have listed most of the sources for the room below, but if you have any other questions, please feel free to comment on this post and let me know!
Nursery Sources: