It is no secret that I am a coffee lover. Sure, I only drink one cup per day (sometimes two when I'm not preggo), and I typically only drink it in the mornings, but it is one of my favorite parts of every day.
Each morning, my day typically starts out the same way. The sound of B's alarm around six, the eye-rubbing slow wake ups, and now, more often then not, the start of my day before 7AM (thank you, insomnia!). Since B is out the door and on his way to work by 7AM, I am usually left to prep a small breakfast and enjoy my morning news and coffee with only Riley's company. And let's face it, that girl is usually back to sleep in the basement by this time anyways.
Some mornings, I love the quiet time. I like being able to plan out my day, catch up on current events and sip my hot coffee for a few minutes.
Then some mornings, I make special plans to meet a friend for coffee at a favorite breakfast spot. I love having the time to sit and chat over a warm cup of coffee and bagel sandwich.

But, I know that these slow mornings are coming to an end very soon. And, I thought it was probably time for me to put my 'big girl' pants on and get used to hosting small breakfast get-togethers at my own home. This way, I won't have to get both myself and Gavin ready and out the door, and my girl friends can come over for treats, some good coffee, and obviously, lots of baby snuggles.
Of course, the perfect hostess needs her practice! So, a few weeks ago, I decided to host a small coffee social at my house with a few close girl friends. After all, it may be the last one before we have a little dude there with us. I had so much fun shopping for items for us to munch on, and of course I had to spend time picking out some delicious coffee to brew!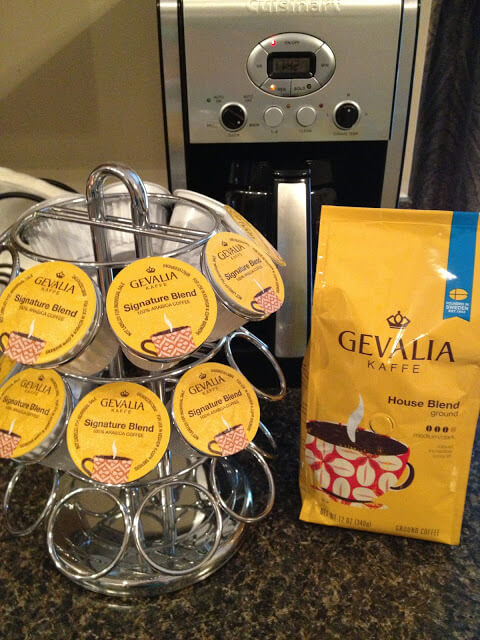 I like to offer my guests options, so I went with both the pod and ground options of one of my favorite brands. Have you tasted Gevalia coffee before? It is simply delicious. Rich flavor, but not overwhelming, and Gevalia is now making tons of flavors and roasts to satisfy any coffee drinker! Gevalia began brewing coffee in Gavle, Sweden in 1853, where traditional cast-iron roasting developed its distinctively rich, smooth taste that's never bitter. Gevalia is expertly made with carefully selected beans and ground extra-fine to produce a rich coffee experience. And, now it comes in single serve cups for your Keurig® K-Cup® Brewer, perfect for a quick Gevalia fix! And the best news? You can find most roasts and options at your local Safeway. This way you can get all of your grocery shopping done, and pick up some of your favorite Gevalia blend, as well as some baked goodies, all in one place!
I personally believe that a hot cup of coffee is served best with a few baked goods at breakfast time, so my party would not have been complete without some of my favorites!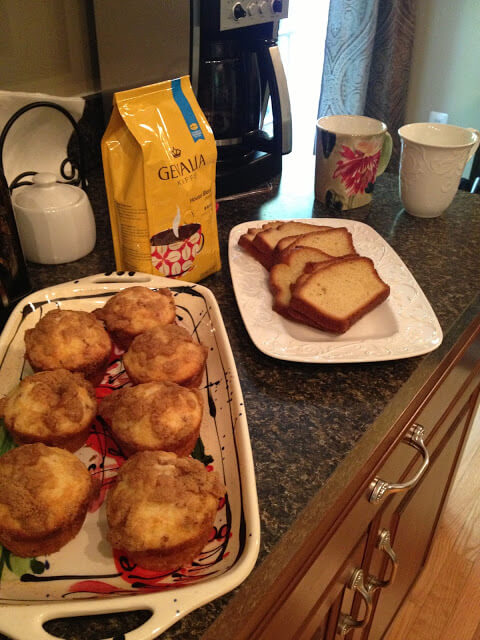 I whipped up a batch of Cinnamon Streusel muffins and served them alongside Safeway's yummy Vanilla Poundcake straight from the bakery! Of course I tried to throw in a bit of fruit and yogurt so there were healthier options as well, but in my opinion, the baked goods made the coffee taste even better!
Between Safeway and Gevalia, I was able to find everything I needed to host a few girlfriends, even down to plates and napkins. This Momma-to-be loves a store that provides competitive price as well as convenience, so this was a home run in my book.
I was selected for this opportunity as a member of Clever Girls Collective and the content and opinions expressed here are all my own.