I almost have to pinch myself every time I think about the fact that we are already past the 34 week mark. I called B on my way home from the doctor yesterday, and he still thought we were back at 32 weeks. Hello, catch up Dad?!
We were super productive last weekend and got a lot of 'before baby' items accomplished. This weekend we are planning to do the same, and knock out packing hospital bags and installing the carseat. I am hopeful that, come Monday morning, I will feel like almost all of the big things are done, and we can gear up for a relaxing last couple of weeks.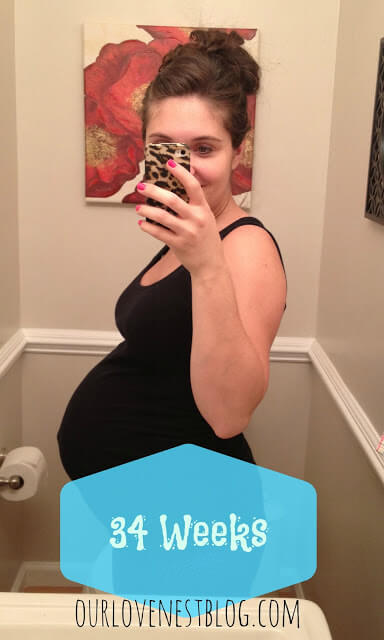 How
far along are you? 34 weeks as of 6/11/13
How I'm feeling: This week I'm feeling more tired than anything. Haven't been sleeping well (more on that later), and my heartburn is at an all time high. Phew!
Total weight gain: 26 lbs. as of 6/12/13
How big is baby? Gavin could be anywhere from 19 to 22 inches long and close to 5.5 lbs! According to 'What To Expect,' he is about the size/weight of a large cantelope!
Maternity clothes: Yes, and seriously considering borrowing my husbands shorts at this point. G feels lower this last week and it's making any waistband feel tight.
Stretch marks?
Ugh.
Sleep: This last week or so, I have been up every other hour, either to run and pee, or because I'm hot and/or uncomfortable. Sleeping on the couch in the basement is looking more and more appealing these days.
Best moment this week

:

Getting the nursery (almost) completed! I love just sitting in there taking it all in. We got a bunch of 'before baby' items checked off of our to-do lists last weekend, and I'm hoping to do the same this weekend.
Movement: Still one active little dude! His most active time is still late afternoon through dinner time, but he is active on and off all day. Hasn't started up much in the middle of the night, although last night he was squirming around a lot for 3:30AM. His movements are getting bigger and are sometimes uncomfortable. They are also turning to less kicks and more squirms.
Food cravings: I have a love hate relationship with food right now. Some days, I feel like I could eat anything in my sight; others, I do not feel like eating anything in my house. Stupid hormones.
Food aversions: See above.
Labor signs: Still getting Braxton Hicks a few times per day. Not painful, and still irregular. I am also starting to get some sharp pains down 'low' that come unexpectedly from time to time. All of these things combined have caused me to slow down quite a bit this last week.

Belly button in or out: Yea, you know the answer to this one.
What I miss: Ice cold beer on a warm night, deli sandwiches and sleeping in.

What I'm looking forward to: Our weekly appointments with the doctor have started! We will be going every 6-8 days for at least the next five weeks (hopefully). This is helping me feel like the end really is in sight now. We are also scheduled for a childbirth class next Saturday, 6/22 and I am anxious to get through that.
Milestone:
Gavin's nursery is really coming together, and we have a Pack N Play and swing in our living room, not to mention the new little crib/bassinet that has taken up residence in our bedroom. The baby stuff is everywhere.