If you frequent my blog, you know that lately, we've been all things baby, bump and nesting. I swear I actually do other things, and have other interests. Most of the time.
It's hard to think about much other than organizing your house and preparing a brand new nursery (that your baby may or may not even sleep in before the fall comes), when you're in the middle of the home stretch of your first pregnancy. As if I needed more motivation to purge, clean, organize and DIY, I took up a new love about six weeks ago: any and all things HGTV.
More specifically, I have become borderline obsessed with the Property Brothers.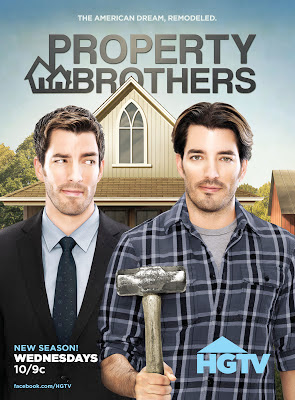 I find myself glued to the TV day or night whenever one of their shows is on. And, I've asked B several times how we can get them to come a little closer to Maryland because my kitchen could definitely use an update and some of their staging!
What is it about everything on HGTV that makes me feel like I need to trash most of what I've done to my house up until now, and just start over? I would never refer to myself as a minimalist, but every time I see a perfectly staged home on any of the network programs, I have the sudden need to repaint everything in whites and greys ad get rid of almost everything I currently use (and store) to decorate with.
Just last weekend, B was outside working on a project he'd been wanting to finish for weeks. This left me in the house all by myself with my cleaning supplies and a morning full of HGTV. Not more than an hour had gone by, and I already had a new list in my head of all of the fun things we could do to our house before G makes his arrival next month (hopefully). Thoughts of paint colors, mirrors and hidden storage were swirling in my head.
And then I was snapped back to reality. My house already looks likes a tornado went through it. There are piles of baby things in every room. There are clothes to wash and fold, and baby gear to assemble.
Perhaps my DIY home projects will have to wait until Drew and Jonathan can make them a reality for us. But, a girl can put a pen to paper for some 'rainy weekend' projects, can't she?!