We sure have been kicking off this summer with some exciting giveaways, haven't we?! Well, today we are kicking off a brand new one, and it may just be our biggest one yet!
If you are any kind of social media maven, or you just love a sparkling clean house, then you are more than likely, already a fan of Oreck.
I received this product to review from Oreck, but all thoughts and opinions about the product are my own. The Oreck Corporation provided the prize for the sweepstakes but is not the sponsor of the sweepstakes.
It is no secret that I would consider myself a Type-A 'neat freak.' You know the type, can't leave for work without cleaning the kitchen, and can't get to bed without doing the same. I hate waking up to a dirty kitchen. But, while I do love a clean house, and do take pride in these wifely responsibilities, I have learned very quickly how much more difficult and time consuming cleaning a 4 bedroom townhouse is that the one bedroom apartment where we used to reside. Oh, and don't forget our energetic, 60lb. black lab!
Before I met my Oreck 'Grab-It & Steam-It'
steam mop
, I would typically try and squeeze most of my cleaning into one day. By the time I picked up the vacuum to 'finish the job,' steaming the floors had totally fallen off of my list of 'must's', because, most of the time, I no longer had the energy to separately vacuum and steam after I had tackled bathrooms, dusting, appliances ..
you get the picture
.
And then, my little cleaning heart was blessed with a gift that would allow me to vacuum and steam at the same time! Could it be true?!
And yes, it certainly was.
Now, all I need to do is fill up the handy, detachable water container, pop both that and the steam pad on, and I am a cleaning machine.
It's super easy to switch modes. From straight vacuuming to straight steaming, it all happens with the simple turn or press of a button.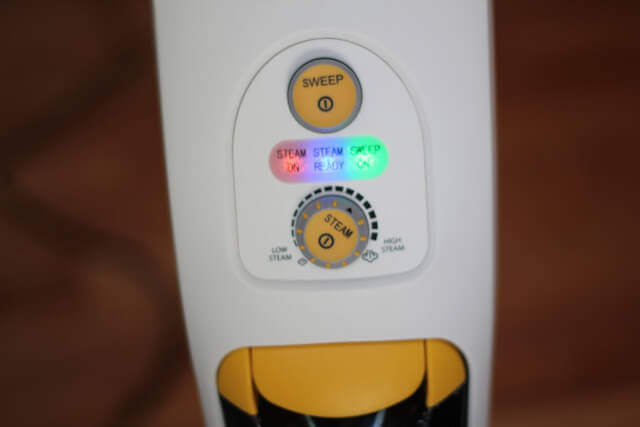 The red, blue and green light system will tell you when it's ready to steam, and off you go! I mean really, they couldn't have made it much easier for a woman on-the-go to 'kill two birds with one stone?'
Now, I can easily suck up all of the lingering dog hair around our house, and steam away the inevitable spots that adorn our floors each week, at the same time! I would have to say that my favorite place to use my new Oreck
steam mop
is in my kitchen. There are always water stains around Riley's food & water bowls, and sometimes, leftover residue from my cooking or B's work boots!
The Grab-It & Steam-It has saved me so much time, and has truly allowed me to enjoy the process of keeping my floors clean so much more than I ever did before.
Now, I bet you're wanting me to get to the good stuff, right?! How can you enter to become the owner of your very own Oreck 'Grab-It & Steam-It?' Well, that's easy, ladies!
Begin by visiting Oreck.com and telling us one thing you learned about the
Grab-It & Steam-It
in a comment on this post. Then, simply use the widget below to collect the rest of your entries!
This giveaway begins today, and will run through Monday, June 25th.
The winner will be announced on Tuesday, June 26, 2012.