A few months back, I took on the project of turning my upstairs hallway from a completely blank canvas to a gallery wall, of sorts.
I love a finished house, so once the walls are painted, I get to brainstorming decorating them as soon as I can! Since our upstairs hallway is long and narrow, and gets tons of natural light because of the open staircase and large window, I knew this would be the perfect spot for my first (ever) gallery wall space.
So, of course I went straight to Hobby Lobby to find some frames, wall art, miscellaneous pieces, and even a clock. I was so pleased with the selection they had. I quickly scooped up a large, open frame from the clearance section, a piece that I knew would be perfect for creating a 'family crest' type piece at the center of the wall.
A few frames, a small wall clock and two mirrors later, and we were in business!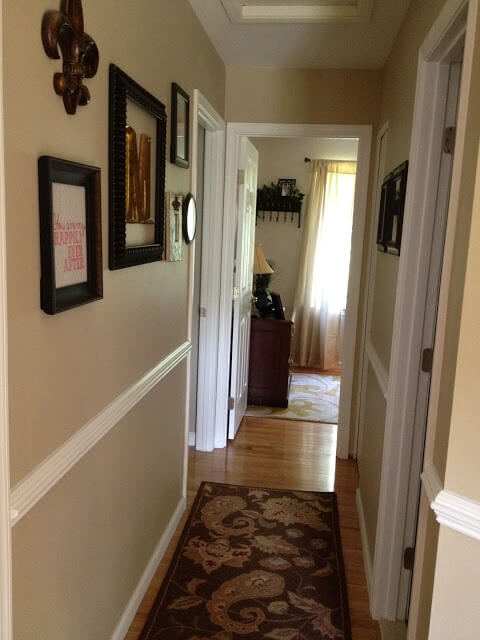 I am just thrilled with the way the whole thing came together. The above picture is the view you would have when walking up our stairs to the bedroom level of our townhouse.
I started with the open frame and the large 'M' at the center, and built the rest of the wall around it. If you know me, you know I love printables, so of course, I framed a few of them to adorn either side of the 'M.'
I also found that gorgeous fluer de lis at HobLob for 50% off! The frame on the lower right contains one of my favorite pictures from our engagement session, and I finished off that blank space with an adorable wall clock, and let me tell you, that clock sure comes in handy when I'm primping in the bathroom across the hall and it's the only clock in my view!
I think my next gallery wall project will be coming up the stairs to the landing right below this area. Have you done a gallery wall in a staircase before? I would love some tips!!
My Gallery Wall Project - 'Where From's?'
Square, backless, open frame - Hobby Lobby, Spring 2012
Large golf 'M' - Hobby Lobby, Spring 2012 (they still have these whenever I go in!)
Smaller, wooden frame - engagement gift
Two 8x10 wooden frames - Hobby Lobby, Spring 2012
Framed printable ''You Are My Happily Ever After' -
Livy Love Designs
, Winter 2011-2012
Happy Wednesday, Lovelies!!