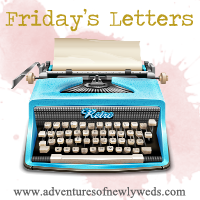 I know I am lacking in any real, meaty content this week, but I promise we have lots of fun things lined up, and I couldn't help but give this whole 'Friday Letters' thing a try! If you haven't read some of these funny and witty letters before, you're definitely going to want to check them out.
Dear Riley,
Although Momma & Daddy love you very much, we cannot wrap our brains around the fact that, at 18 months old, you are still waking us up at 6AM EVERY MORNING. Will this ever end? We need some sleep, girlfriend.
Hey Neighborhood Kids,
We understand that we live on a quiet little cul de sac, trust me, that's part of the reason we chose this place, but do you always have to play right outside our house, and scream at each other until all hours of the night?! We really don't want to turn into those disgruntled neighbors. Maybe we'll be more understanding once we have children of our own.
Dear B,
Oh sweet, hardworking husband. I have decided to create a new rule in our house. It's called 'if you finish it, you replace it' and it applies to at least all of the following: toilet paper, paper towels, tissues, napkins and the Brita container in the fridge. Thanks for your attention to this matter :o)
Love,
Your Adoring Wife
Dear Bravo,
Thank you, ever so much, for supplying countless hours of dramatic, reality television. I can't tell you how many afternoons have fallen to the wayside due to a RHONY marathon, or the impending RHoOC finale. I love your work. Keep it up!
Dear New FroYo Place,
Thank you for opening within 2 miles of our house. Even though I really don't need the extra calories during bathing suit season, I truly appreciate being able to run out and grab a sweet treat with my hubby on a random Tuesday night! But seriously, can we work on your Snickers bar chunks? Last time I tried them, they definitely didn't taste like Snickers. Thanks a bunch!