Remember when I hosted
this sprinkle
? Or
this one
? One of my favorite parts about hosting or co-hosting events is finding new recipes to try. And when you come across a great one, like this, it makes the two hours in front of the Kitchen Aid totally worth it.
This recipe originally came from
this pin
and
this recipe
. I will admit that I was a bit intimidated when I first decided to make mini cheesecakes. It seemed like quite the feat, but I put on my baking shoes anyway.
Mini Raspberry Cheesecake Recipe
Ingredients
Crust
1 1/2 cups crushed Nilla wafers
4 Tbsp. butter, melted (I always use unsalted)
3 Tbsp. sugar
Raspberry Swirl
6 ounces fresh raspberries
2 Tbsp. sugar
Cheesecake Filling
2 lbs. cream cheese, softened to room temperature
1 1/2 cups sugar
A dash of salt
1 tsp. vanilla extract
4 large eggs, at room temperature
Begin by preheating your oven to 325 degrees. Line each of your cupcake holes with a small liner.
Next, create the crust by crushing your Nilla Wafers. I placed mine in a Ziplock bag and went to town with the rolling pin. Once they are crushed into crumbs, combine them in a small bowl with your butter and sugar and mix together with a fork until the ingredients are evenly blended (all of the dry ingredients should be moistened). Then, press enough of the mixture into the bottom of each cupcake liner to create a crust (about 1/3 of the liner). I used the bottom of the tablespoon sized measuring spoon to press the crust down firmly into each liner.
Next, combine the raspberries and sugar in a food processor and blend until the mixture is smooth. If you have a mesh strainer, use it here to remove the seeds from the mixture. I do not have one, so I used the collander with the smallest holes and it worked okay.
Now you'll want to prepare the cheesecake filling. Begin by beating all of the cream cheese in the bowl of an electric mixer until smooth. Blend in the sugar next. Then, add salt and vanilla. Add your eggs one at a time, mixing well between each one.
Once your mixture is smooth and fluffy, spoon some of the cheesecake filling into each of the liners until it is spread out evenly (Note: if you are using the mini cupcake holes like I did, you will definitely have enough for more than one batch).
Lastly, you'll want to add a few dots of the raspberry topping to each cup. Use a toothpick to swirl the raspberry around on top of the cheesecake filling.
Pop into the oven for about 22 minutes, rotating the tray about halfway through the timer. I kept a close eye on the cheesecakes here, as my oven can be finicky and I didn't want to ruin them. When you take them out of the oven, transfer them to a cooling rack. I placed the entire rack into the fridge for about 4-5 hours before serving.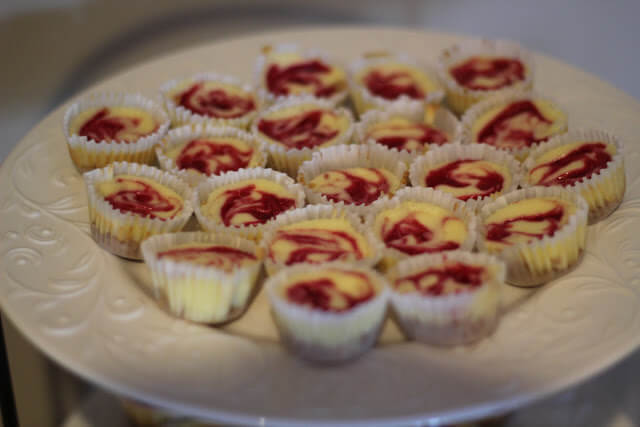 I am planning on making these for the BBQ that we are hosting this weekend at our house for both sets of our parents and I know they'll be a hit! If you have an hour or two to spare, and you're in the mood to bake, definitely try these out, they're totally worth it!