Is it really May 15th already?! I have been having lots of trouble wrapping my mind around the fact that summer is almost here. And, with the impending arrival of summer, always comes Memorial Day Weekend (MDW), one of my favorite times of year!
This year, we are lucky enough to have been invited to spend MDW down in North Carolina with some of our closest, and also newly married, friends. Of course, I am beyond excited for our mini vacation, and who wouldn't be? But, with a trip, there is always packing involved, and I hate to pack, That is, unless I have some exciting new threads to bring along with me.
Last year, I wrote this post about my 'Summer Must-Haves,' and although not much has changed in that department, my personal style has changed just a bit, so a girl's got to have some new summer outfits,
amIright?!
Whenever I pack for a beach trip, I always over pack.
Well, really I over pack for every trip I take.
Somehow, I always forget that, at the beach, you spend close to 70% of the time in a bathing suit, coverup and flip flops. I typically sport your average, colorful two-piece suit, but I'd be lying if I said I wasn't interested in a fabulous one-piece like this one ...
Seriously?! One shoulder and flattering? Right up my alley. And, it comes in eight colors! If it weren't for the $118 pricetag, this suit would be on its way to me rather than sitting in my shopping cart.
With every great suit, you also need a smashing coverup, no? I was able to score an adorable one at Target last year, but couldn't find a picture of it online to share! But, typical of me, I also spotted this beauty on the JCrew Factory site. Gorgeous, right?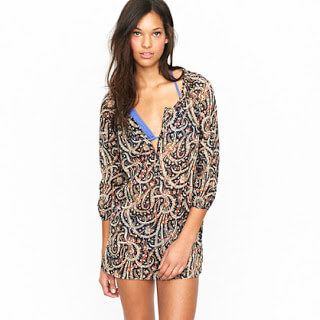 I pretty much live in dresses in the summer, and have recently found a few new ones I'd love to add to my collection ...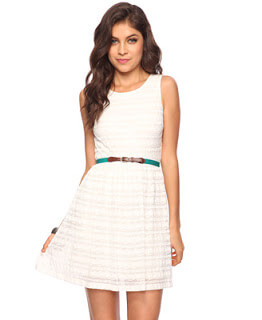 Aren't they adorable? And, the best part? They're both under $30 thanks to
Forever 21
. Can someone
please
tell me where I can find that multi-colored necklace ASAP?!
I love anything flowy, comfortable and, most times, colorful!
Speaking of colorful I love pretty much anything yellow, coral and navy this year, and may or may not have just added this skirt to my 'must pack for MDW' pile.
Sorry, B.
And, what would this post be without my favorite sandals for this year? Even though they carry a hefty price tag, these babies were worth every penny, and are the true completion to many of my summer outfits!
Well, I'd say that's a pretty good start to my 'packing list,' now please excuse me while I go hide my wallet and finish all of the laundry we'll need cleaned before our trip!