And the renovations continue!
One of the main selling points for me when we looked at this townhouse was the open floorplan of the kitchen/living/dining areas. Truth be told, I had wanted to rip out an additional wall to really open the whole thing up, but that pesky thing turned out to be structural and was not worth the time and money it would have taken to bust it out; not for our first home, at least.
Below is a picture of what the living area looked like the day we closed on the house: dirty grey/blue carpet, three different colored walls, old doors and trim. Luckily, the bay window is brand new, and I knew that it was going to be a beautiful focal point for the room once it was completed.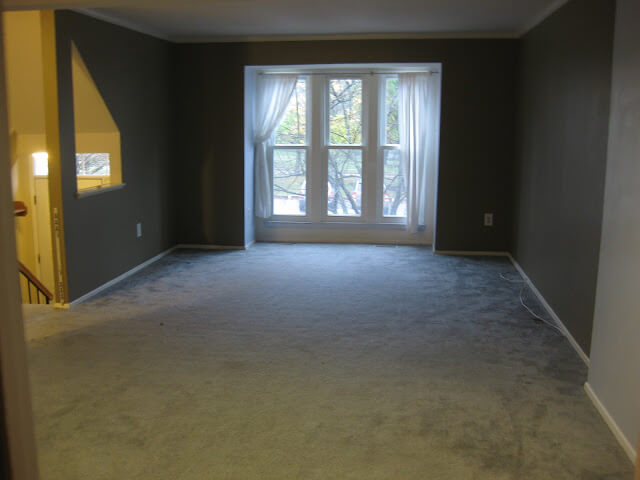 We started by ripping out all of the flooring. I could barely stand to look at the soiled/old carpet any longer. The entire space needed new doors, trim and paint as well.
Sometimes it's still hard for me to believe that this is the same house as the one we bought just a mere five months ago. Once we painted the walls and put in the floors, the entire space was immediately transformed.
This was also the first time I had a living area this large that I could do whatever I wanted with! What's better than a blank canvas, right?! We needed new furniture, art for the walls, and curtains, just to name a few. My Mom came down to visit one weekend and we went to town on the 'look' of this room. Since it's long and narrow, we had some space to work with.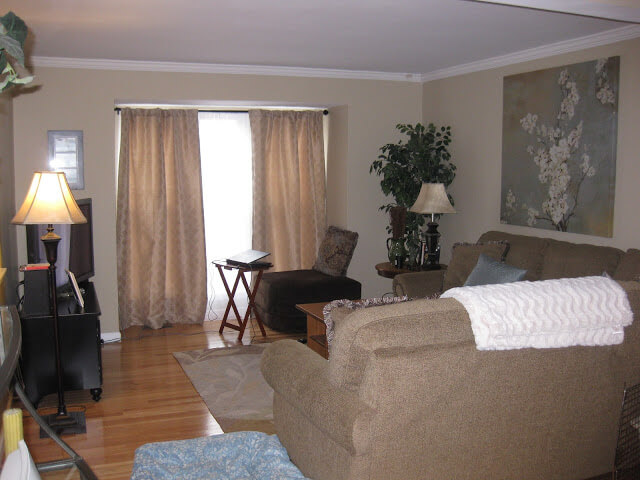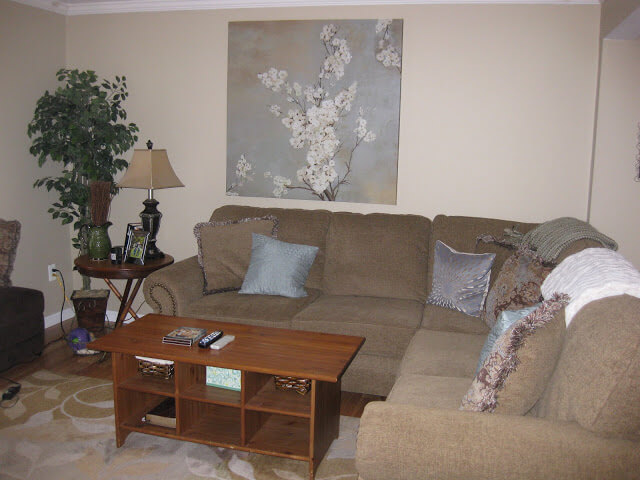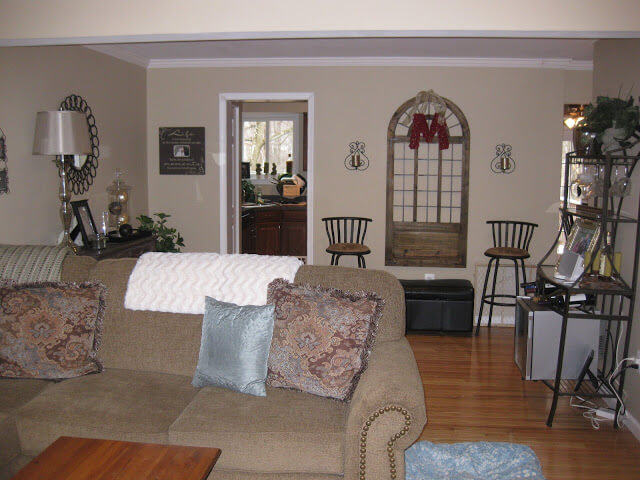 Here is a close up of the top of the serving piece from Home Goods. I love having another piece of furniture to use for display!! Oh, and I scored that mirror for 60% off at Hobby Lobby!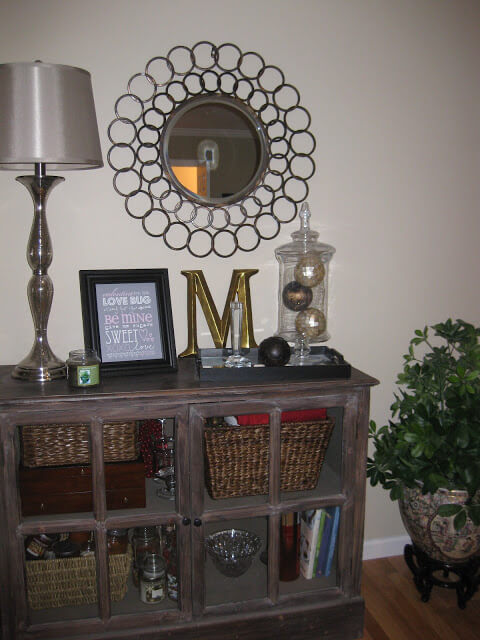 I am thrilled with the turnout. It is a bit different than I originally anticipated, in that, I used more green than I thought I would, but I love it now. It feels warm and cozy and that couch may be one of the top three items we have bought for the house! We added the same natural hardwood floors to this entire room that we did in the
kitchen
and
master bedroom
. The walls are also painted with Benjamin Moore's
Shaker Beige
, which for the record, is my absolute favorite color now! The entire space contains new doors and trim, and like I mentioned earlier, the windows had been replaced shortly before we moved in.
Since there is so much in this room, I'm not going to list out where we got everything, but if there is an item or items that you want to know more about, just leave it in the comments and I'll get back to each request!!