I realized a few weeks ago that I have become
slightly
obsessed with having a full plate of DIY crafts to get through. This realization came when I remembered that I had completed 90% of the projects that I had lined up for myself before Christmas. So, what's a girl to do? Well, run on over to
Pinterest
, of course!
Within minutes, I had found a handful of projects I was dying to start, and so the Hobby Lobby and Jo Ann's Fabrics lists' began!
First up, I decided, would be
this
project. A picture with no tutorial, but I assumed it self explanatory enough to be able to complete it with just that. So, off I went.
DIY: Curtain Rod Frame Hanger How-To
What You'll Need:
One (1) 24-48" curtain rod with hardware for hanging
One (1) 8x10" picture frame (preferably for wall hanging, but not a necessity)
Two (2) 5x7" picture frames (above applies here as well)
One (1) spool of thick, white ribbon (or ribbon of your choice, but it should be sturdy)
Hot Glue Gun
Glue Sticks
Start by hanging the curtain rod on the wall in the place of your choice. I chose to hang ours over the bed in our guest room, and I also recruited B to hang it for me.
Gather your frames and select prints and images for each.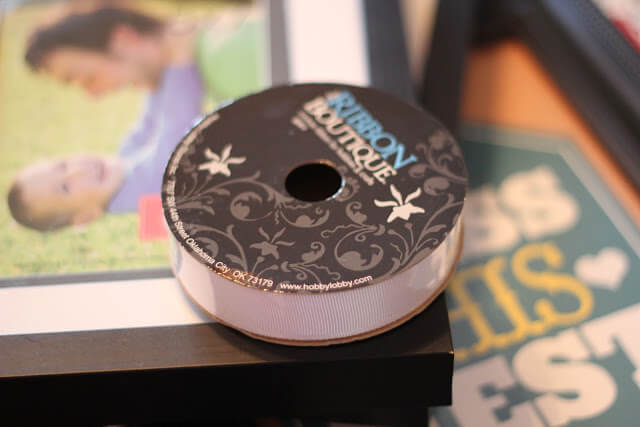 Then, begin gluing your ribbon to the backs of each frame.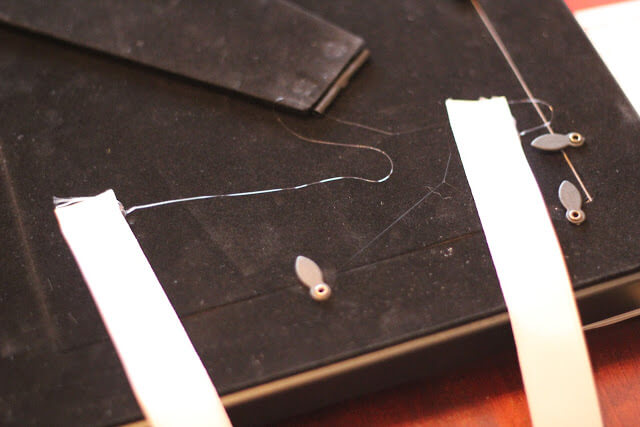 Make sure to press down on the hot glue while it dries so that the ribbon is held tightly in place on the back of each frame.
Next, hang each frame from the curtain rod and place rod back into brackets.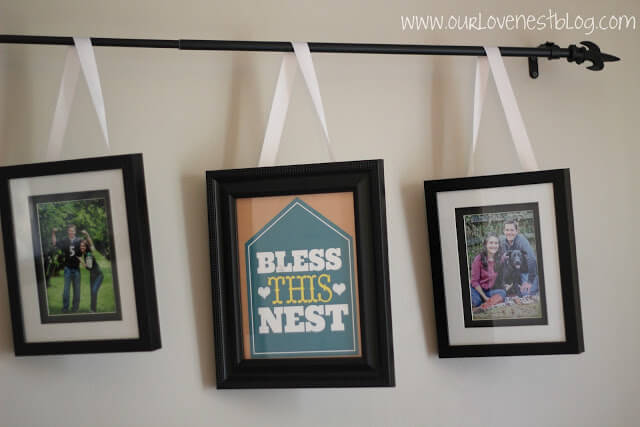 Adjust the frames so they are equally spaced apart.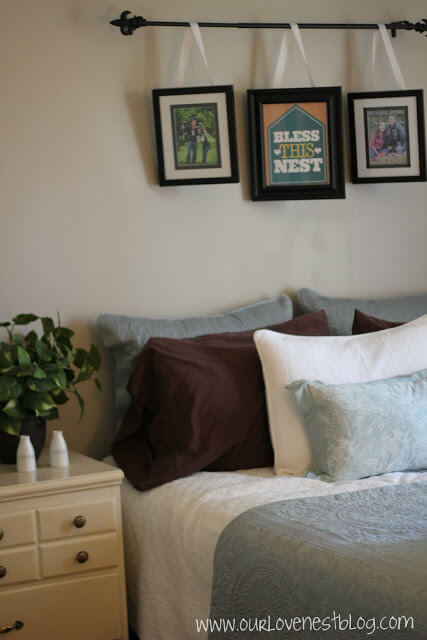 Lastly, take a step back and check out your new masterpiece! It's really that easy!
I think this added the perfect touch to our guest room since I don't have the money to buy a headboard for this room, and the entire project only cost me about $35! How's that for decorating on the cheap? :o)
Happy Thursday!