Well, it's that time again. Truth be told, I have been the most excited for this week's renovation post! Since we were living in a one bedroom apartment before we bought this place, our bedroom served as the 'master bedroom,' as well as the 'catch all' for all of our extra junk. Oh, and Riley's crate. Minor details.
Since our bedroom in our apartment didn't really feel like 'us,' I was very excited about transforming the master bedroom in our new home into a room where we'd love to spend time. If you've seen any of my
other renovation posts
, you've probably already realized that the people that lived here before us hadn't really updated the place in a while. So, feast your eyes on these 'before' shots ...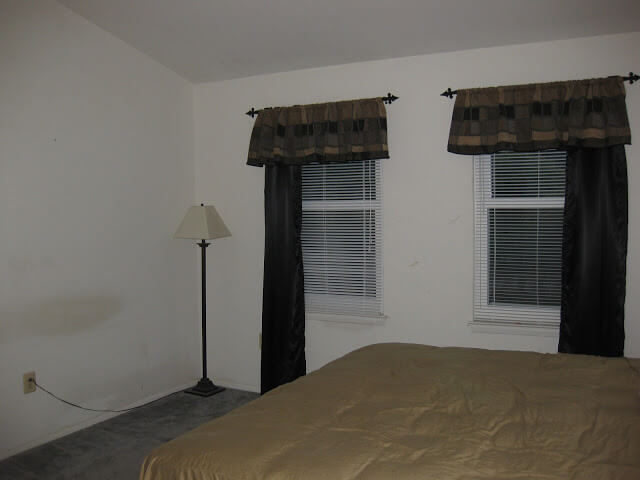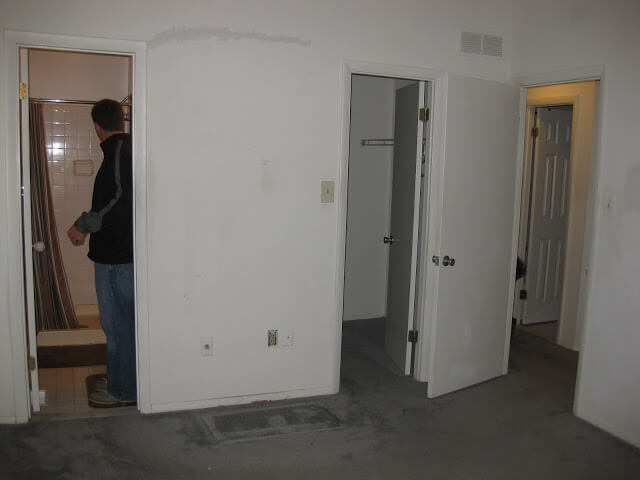 Yes, they really had those curtains in the bedroom, and the walls were STARK white. You know, other than the places that had stains on them. Needless to say, we had to start all over again with this room. Luckily, the room is a nice size, and had a bathroom and walk-in closet in it already (Sidenote: the bathroom is a totally different story, and is currently still gutted, so we'll save that portion of the master for another day!)
I knew that I wanted the room to feel light and bright. Once we got rid of the old blinds and curtains, there was a lot more natural light flowing into the room, which made it the perfect canvas!
I started with the new
duvet cover
that was inspired by one of my
besties
, who had added it to her new master bedroom only a few months before. As soon as I saw it in person, I knew I just had to have it! And, since the duvet was so vibrant and colorful, I knew that I wanted the rest of the room to be neutral, light and flowing.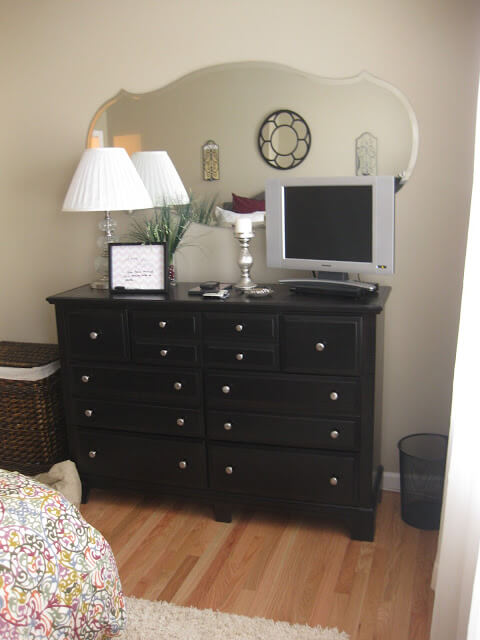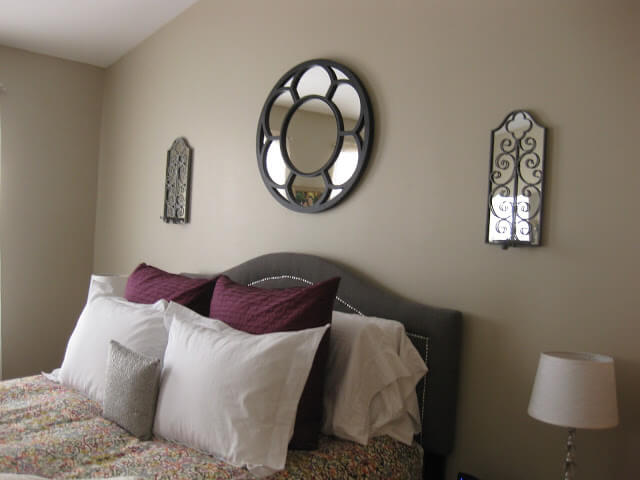 Once the duvet came, I started picking out other accessories that I thought would accent it well. A few lamps from Target, some pillows from Home Goods and a few hanging mirrors, and the show was really rolling!
Our room is really a collection of lots of different pieces from lots of different places, but I'll do my best to share where I got the majority of the newer items.
Pictured Above:
Bed Pillows: Home Goods, Fall 2011
Nightstands - Target, Winter 2009
Matching Lamps & Shades - Target, Fall 2011
Round Wall Mirror (above bed): Hobby Lobby, Winter 2012
Cream Shag Area Rug: WalMart, Fall 2011
'
Audrey
' Framelesss Hanging Wall Mirror (sz. Large): Ballard Designs, Fall 2011
I am absolutely in love with the way our master bedroom turned out! It is definitely my favorite and one of the most 'complete' rooms in the house, and it's the perfect retreat for us when we've tired of chores and renovation projects at the end of every weekend!
I hope your Mondays are treating you well!!