Happy Tuesday! Today, I am thrilled to introduce you to Molly from over at Duchess of Fork! Molly and I met recently via Twitter, and we hit it off right from the start! She is a new Mommy and the kind of at-home chef I aspire to be! Please make her feel welcome here today, and head on over to her blog, too!
Hey y'all! I'm Molly, the girl behind
Duchess of Fork
. I'm so excited to be Pamela's guest today. I'm a teacher-turned-stay-at-home-mom to my precious 5 month old daughter, Julia. I love creating meals for my family and try to keep it as flavorful and healthy as I possibly can.
If you're anything like me, you probably had one too many slices of cheesecake during the last couple of weeks. And if you're anything like me, you probably enjoyed every last bite! ;)
Here are some of my favorite recipes that will get you off on the right foot in 2012.
2 cups uncooked whole wheat rotini or penne pasta
2 medium zucchini, cut into large, thin slices
1 medium yellow squash, cut into large, thin slices
1 1/2 cups fresh button mushrooms, quartered
1 (7 oz) jar diced pimentos, drained
1/4 cup Romano or Italian dressing
1/4 cup grated Parmesan cheese
·
Bring a large pot of water to a boil, then cook pasta according to package
·
Bring a grill or a grill pan up to medium heat. While grill heats up, toss zucchini, squash and mushrooms with olive oil, salt and pepper. Grill veggies until they get a nice char and are cooked through. Remove from heat and cut into bite-size pieces.
·
In a large bowl, toss pasta with grilled veggies and pimentos.
·
Stir in dressing and Parmesan cheese. Season with additional salt and pepper to taste.
1 bag of lentils (about 16 oz)
1 cup frozen corn kernels
5 cups chicken or vegetable broth, divided
·
Place lentils, onions, celery, corn, taco seasoning, 4 cups of broth and salsa into the bowl of a large slow cooker. Stir to combine ingredients.
·
Cover and cook on low for about 6 hours.
·
After 6 hours, add in the remaining cup of broth, and adjust flavor with salt and pepper as needed.
·
Return cover and cook for another hour or two.
·
Serve over hot cooked brown rice and top with sour cream, shredded cheddar cheese, or other desired toppings.
1 tbsp. Montreal Steak Seasoning
1 ½ tbsp. Worcestershire sauce
·
Place ground turkey in a large mixing bowl. Using your hands, mix in Montreal seasoning and Worcestershire sauce until all ingredients are combined.
·
Portion the turkey mixture into 4 equal patties.
·
Heat a grill, grill pan or skillet over medium heat. Cook burgers for about 4 minutes per side, or until cooked through.
·
Serve on wheat buns with your favorite toppings.
Recipe from Taste of Home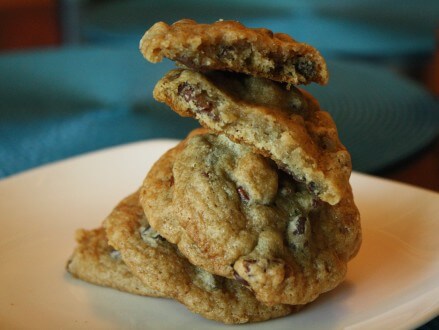 1 1/4 cups packed brown sugar
6 tbsp. vanilla soy milk (I used almond milk)
1/4 cup unsweetened apple sauce
1 cup dairy-free chocolate chips
1/2 cup chopped walnuts or pecans
·
In a large bowl, beat the brown sugar, canola oil, soy or almond milk, sugar, applesauce and vanilla until well blended. Combine the flour, baking soda and salt, and then gradually add to sugar mixture and mix well. Stir in chocolate chips and nuts. Cover and refrigerate for 1 hour.
·
Preheat oven to 375 degrees and line a baking sheet with parchment paper.
·
Drop dough by rounded tablespoons 2 inches apart onto prepared cookie sheet. Bake for 10-12 minutes or until edges are lightly browned. Cool 1 minute on pan before moving to wire rack to cool completely.