Happy Monday! I hope you all enjoyed your weekends as much as we did. We were super productive and got to spend Super Bowl Sunday with some great friends! The Giants winning the Super Bowl was just the icing on the cake. Congrats Giants fans!!
Today, I decided to link up with
Molly
and share my weekly meal plans with all of you. I have always loved planning our weekly meals, and had a little magnetic pad that I'd stick to the fridge each week with my new ideas, but when Molly posted this
meal planning post
with a fabulous printable, my little OCD heart about burst! I quickly printed out a
drawer
hand full of these babies, and was on my merry way!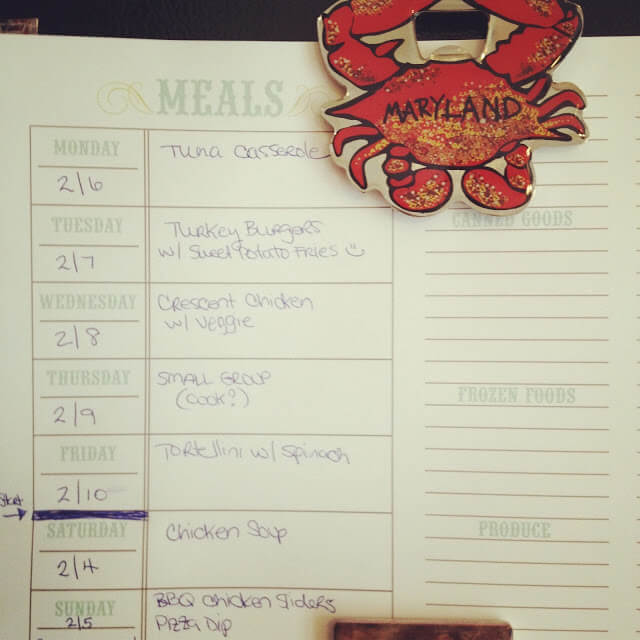 Does this printable just make you want to get to planning?! Well, it did for me!
So, for this week, I came up with a few new ideas, and threw a few staples in there as well.
'M Family' Meals for Week of 2/5
Monday:
Tuna Noodle Casserole (found
here
!)
Tuesday:
Turkey Burgers a la
the Duchess
with Sweet Potato Fries and Grilled Asparagus
Wednesday:
Crescent Chicken Squares from
Laura's
Kitchen!
Thursday:
We have our Small Group, and it might be my turn to cook. Still need to work on this :o)
Friday: Tortellini with Spinach (I make this about once every 10 days, I'll have to get the recipe up. It's quick, easy and yummy!!)
So, there you have it. We'll be dining in 'style' this week thanks to a few of my blog friends :o) What are you waiting for? Go ahead and share your ideas here and over on
Molly's post
as well!!
What are YOU cooking this week?!