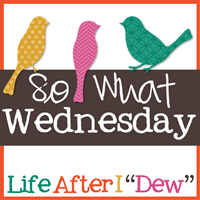 It's been a while since I've jumped in for Shannon's So What! Wednesday, and it felt like an appropriate week to get back in on the action.
This week, I'm saying So What! if ....
I started Season 1 of Scandal on Thursday and was completely caught up by Monday evening. It is a great show, and super addicting.

I'm using my mini bump as an excuse to wear all things cotton, snug and comfy. My husband must be starting to wonder if I own anything other than leggings and long-sleeved cotton tops.

I believe that if it's going to be this cold, we have to get some snow! I'm holding out hope for this 'supposed' storm that will be moving through the Mid-Atlantic Friday.

I am in a DIY rut. I am dying to find some new projects to craft/make/bake, but haven't found anything that is exciting me yet! Back to my Pinterest boards I go ...

B believes that this baby was one of the Ravens good luck charms, and I am 100% OK with sharing in that sentiment for the next ten days. Go Ravens!

I have been eating some form of dessert almost every night for the last week or so. Whether it be ice cream, hot chocolate or the brownies my hubby made for us last night, I'm starting to wonder where I am going to hide all of these extra calories. I have a while to worry about that, right?!
All I want right now is one full day to prop my feet up on the couch and indulge in snack food and my full DVR. Does that make me fat & lazy right now? Oh, well.
Phew, it sure feels good to get some of that out in the open! Go ahead and join my fellow preggo buddy, Shannon and say So What! this week!
And, please feel free to share some fun, seasonal DIY ideas if you have any!