In case you were hiding in a hole of some sort this past Sunday, the big secret that we have been keeping is finally out! We are super excited to announce that our family will be growing this year. Yes, we are expecting and I am due on or around July 23, 2013. We could not be happier and feel truly blessed and thankful that God has answered our prayers and we are on our way to becoming parents this year.
To be honest, the whole thing has been pretty surreal and overwhelming so far. A lot of the time it doesn't even feel real. I have been lucky enough to breeze through most of my first trimester with no morning sickness (knock on wood!). I have been tired pretty much all the time, and lately have been getting more headaches than ever before, but I am thankful I feel as good as I do.
I can hardly believe that more than 13 weeks has gone by already! We officially found out we were pregnant exactly 2 months ago (11/15/12) and it feels like yesterday. We don't have any real crazy story as to how we found out, or how I shared the news with B, but I'll share the boring details anyway, so I can remember them!
November 15th was a Thursday and B took off of work because we had an appointment with a fertility specialist that morning. We had gotten some very preliminary testing done (basic labwork, etc.) just to rule out any major complications since we had been TTC for several months. We set up the consultation with the specialist just to get some advice and his opinion on what to do next since all of our tests looked good.
The funny part was that I was expecting my period any day, but it still hadn't come. I wasn't really 'late' yet, but it was getting close. B and I joked that morning that we would have that kind of luck to find out we were pregnant the day we finally caved and went to talk to a specialist. It's funny how God's plan is always so far beyond our own.
We finished up at the appointment quickly and had what we thought would be the next phase of our 'TTC plan.' Schedule a few more labs and then see how things go for a while. 'No need to be concerned at this point,' the doctor had told us. So, off we went.
The thing I was most excited for that day was going to test drive new cars. I had finally convinced B that there was no time like the present, and since he had the day off of work anyway, we decided to give it a shot. I had almost forgotten completely about our TTC journey when I was test driving my dream car that afternoon. The Acura RDX that would become ours just a day, and some big news, later.
We arrived back home that afternoon and I scurried up to my office to get a few things done. We had dinner plans with B's parents that night, so I was in a bit of a hurry. While I was sitting there at my desk answering emails, something came over me. I thought about our appointment again and how my period still hadn't arrived. I wanted to take a test, but I had already been disappointed a few times before when I tested a little early. I decided I would wait until Monday.
Not more than fifteen minutes later, I found myself in the bathroom with an unwrapped test in my hand. 'I guess this was happening today', I thought. I told myself I wouldn't be upset when it came back negative and would test again after the weekend, if need be.
Then I waited that dreaded three minutes, pacing around upstairs and hovering over the test to make sure I had done everything 'right.'
I was in a state of utter shock when a very light second line began to appear. I started to freak out and just went with my gut reaction. I grabbed the test and hurried down the stairs. I all but shoved the test in B's face as I asked 'does that look like a second line to you?!"
I think B was just as shocked as I was. He was a bit skeptical of that faint second line, so we decided we would buy some digital tests on our way home from dinner that night.
I don't know how I made it through dinner that night when I had ONLY ONE THING on my mind. But I did, and we hurried off to the nearest Walgreens on our way home. As soon as we got home I took the test. And, about two minutes later we had a big fat POSITIVE result staring us back in the face. We were floored. And amazed at God's goodness. It is so funny how one small stick can change so many things.
So, here we are in January. Celebrating the holidays was extra special this year. Telling our families and friends was so much fun, and something we will never forget. But, I'll share more about that another day.
My plan is to write a 'Bumpdate' each week from now throughout the remainder of my pregnancy. I got the 'Bumpdate' idea from one of my besties, and I am so excited to begin tracking our progress!
How far along are you? 13 weeks as of 1/15/13 (today!)
How I'm feeling: Feeling great. Lots of fatigue; pretty much feel like I could sleep 16 hours a day. Getting headaches more often for the last two weeks, and hoping that part subsides. But, I am really lucky that I have felt great for the most part!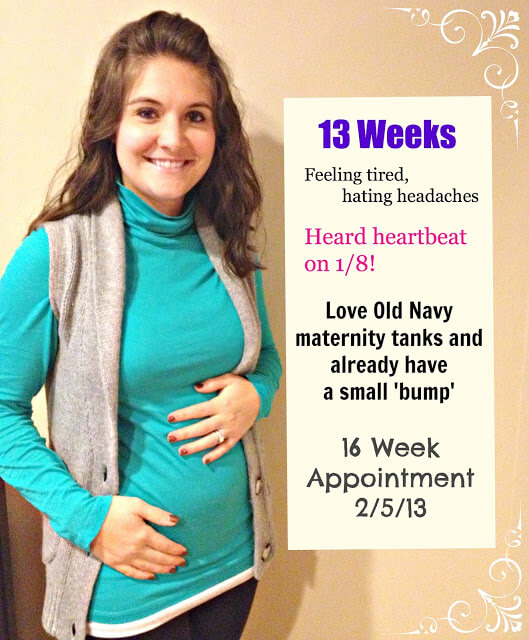 Total weight gain: 0.5 lb as of 1/8/13
How big is baby? Size of a lemon
Maternity clothes: Ordered a few Old Navy tanks just to have and I may never take them off. Like, ever.
Stretch marks? Nada
Sleep: I want to sleep all.the.time. I have never been so tired and feel like I could nap three times a day. And I am NOT a napper. Up at least once each night to pee. Already.
Best moment this week

:

Heard the baby's heartbeat at my 12 week appointment on the 8th - definite the best sound I've ever heard and made me totally emotional! B wasn't able to make the appointment so I recorded the heartbeat on my phone. I listen at least three times a day.
Movement: Nothing yet, although I do feel bubbling sensations from time to time.
Food cravings: Sweets. I find myself wanting candy, desserts, even yogurt and fruit as long as it's not salty.Oh, and pasta. I really love pasta.
Food aversions: Nothing really. Other than the smell of salmon, and occasionally I don't feel like I need to eat dinner. Been trying my best to get protein down even if I'm not hungry.
Labor signs: Nope.
Belly button in or out: I have always had an inney/outtie. It should be interesting to see what happens with that! I have just started to notice that it's already becoming a bit more of a 'soft outtie.' Uh oh.
What I miss: Still wanting my normal energy level to reappear. I hear that will more than likely happen in the next few weeks. I also can't get comfortable when laying on my right side anymore.
What I'm looking forward to: My 16 week appointment on 2/5 and the 20 week scan on 2/27. Hopefully finding out the sex that day!
Milestone: Heard the heartbeat for the first time, bought my first maternity tanks and had B start taking weekly belly pics, which we clearly still need to practice!
Thank you all from the bottom of our hearts for being with us through this journey thus far. We hope you'll stay a while and see where the next six months takes us!