Another week has flown by already. And this was one for the record books. There is one happy husband living in my house, and he swears that the baby is good luck since the Ravens are going to the Super Bowl! I'm just going to go with it. I love the sentiment and what a year it has already been in our house.
Things around here are still going great. We are getting more and more excited to find out if our little bundle is a girl or boy, and only have about three more weeks to wait!

For the first ten weeks, I just had a feeling that this baby would be a girl. But, over the last few weeks, I have changed my mind and now I'm thinking boy. Plus, practically everyone thinks we're having a girl, so I bet it will be a boy!
How far along are you? 1

4

weeks as of 1/

22

/13 (today!)

2nd trimester has begun, woohoo!!
How I'm feeling: Feeling great for the most part. I'm starting to get my energy back and even mustered up the strength to purge a few closets in my house over the weekend. Still having a few headaches here and there, and

the heartburn has already arrived. I have chronic heartburn normally, so I have a feeling I'm really going to be in for it once the third trimester arrives.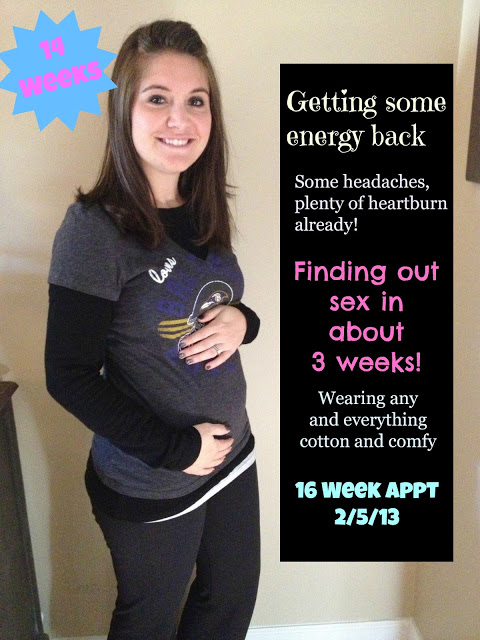 Total weight gain: 0.5 lb as of 1/8/13 - and apparently already looking like I have chipm

unk cheeks in some pics!
How big is baby? Size of a

n orange!
Maternity clothes:
Same deal as last week. A few tanks and tops from Old Navy; oth

erwise living in comfy, cotton threads 90% of the time.
Stretch marks? Not yet, but my belly button is alread

y going crazy.
Sleep: Sleeping pretty well. Still up a few times a night to pee and tossing and turning a little more be

fore I get comfortable.
Best moment this week
:
Booking our u

ltrasound appointment to find out if we're having a boy or girl. I am DYING to find out so I can start planning the nursery.
Movement:

Still

feeling bubbling sensations from time to time.
Food cravings:
Still loving desserts. I'll eat

candy

, ice cream, fruit, and anything else sweet most of the time. And my

love of macaroni n' cheese has not wavered one bit.
Food aversions:
Nothing, really. What I'm in the mood for changes a lot, but there isn't much that I'll completely turn down.
Labor signs: Nope.
Belly button in or out:
It's scary that my belly button is already on the move. I can

only imagine what it will look like in another month or two.
What I miss: Drinking a glass of wine whi

le cooking dinner. Is it too early to say that?!
What I'm looking forward to: My 16 week appointment on 2/5 and finding out the sex right around Valentine

'

s Day! I can barely contain my excitement. Call me impatient.
Milestone:
Still relishing in the sound of the baby's heartbeat and B and I had our first real conversation about baby names. It went pretty well but nothing will really be narrowed down until we know if i

t's a little girl or boy.