A few weeks ago, when we were just back from vacation, and getting our house and lives back into some sort of order, I got re-inspired to introduce a few new recipes into my kitchen.
I have heard many, many good things about cooking a pot roast in the crockpot. Luckily, one of my besties had a great recipe that she shared with me.
Easy Crockpot Pot Roast Recipe (originally found here)
Ingredients
4 lbs. chuck/pot roast (I bought a 4 lb. pot roast and it cooked well)
1 packet dry onion soup mix
1 cup water
3-6 carrots, chopped (recipe recommended 3, I would say 5-6 is better)
1 onion, chopped (I used one whole, medium white onion)
3-6 potatoes (I recommend using at least 5 red potatoes)
2-3 stalks celery, chopped
Begin by rubbing your meat with salt and pepper on all sides. Brown on all sides in large pan coated with olive oil over high heat. About 4 minutes per side.
While your meat is browning chop up carrots, onion, potatoes and celery and set aside.
Add meat, water and soup mix packet to crock pot and set heat to high. Then, add your chopped veggies.
Cover and cook on low for 8-10 hours, or on high for 5-6 hours.
When there is about an hour left of cooking time, shred the meat up; it should fall apart easily.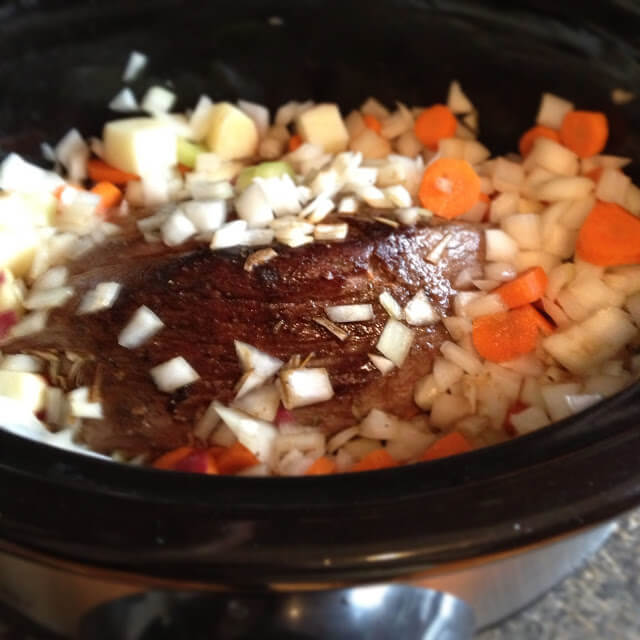 I cooked our roast on high for about 5 hours. I think 6 hours would have been the best amount of time for my particular crockpot.
This was my first time cooking a roast myself and I really enjoyed it. It was easy, tasty, made for great leftovers and definitely husband approved! Just the simple smell of pot roast makes me think of my grandmother every.time. So, this meal brought back good memories.
I will definitely add more veggies next time because 4 pounds of meat is a lot! I was also told that adding garlic and/or cooking wine adds more flavor.
Looking for the perfect, easy winter recipe? Definitely try this one out!