Every year, I can barely wait until Thaksgiving to start decorating my house for Christmas. After all, it is the most wonderful time of the year, so why not celebrate that for as long as possible, am I right?! My husband always has other things in mind, like not getting a tree until the second week of December, but we've come to a compromise that sometime right after turkey day works for us.
I also like to document what my decor looks like each year, because I do some small things a bit differently, and it's fun to look back at what the years' past have been like. Last year was all about my bright new red decor, and the DIY projects that I completed.
This year, I did many of the same things (ahem, my windows always have candles in them, it is my absolute favorite thing), but I think I went a bit more traditional and simple. This is our second year in this home for the holidays, and this year it truly feels like our home. Even better, we get to host my family this year! The Sunday before Christmas (only three days left!!) we will have our own little Christmas morning with my parents, brother and one of my sisters. We'll make a big breakfast, and then open gifts in our pajamas in our living room. It is hard for me to even put into words how excited I am to be starting new traditions this year, and I hope that this will be one that sticks around for years to come.
My tree is bright with mostly red ornaments, ribbon and beading, and I just love the way it came out.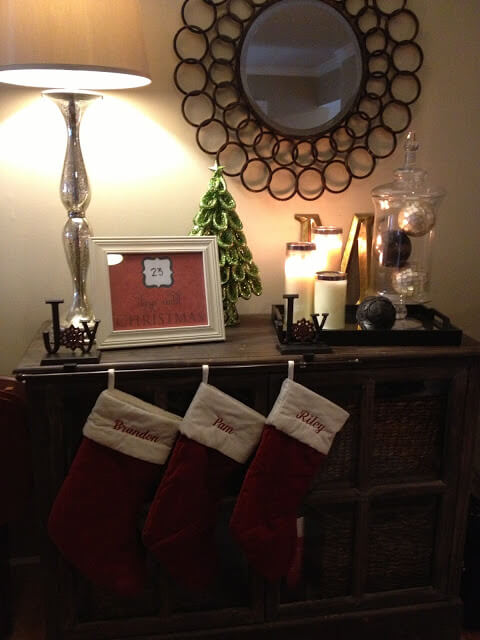 This little nook of our main level is probably my favorite. The Pottery Barn stockings, the tree, the candles. I love it all and could easily leave it up all year round.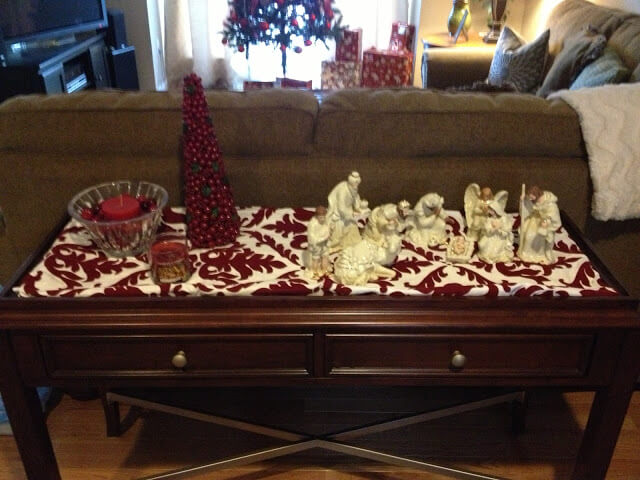 And this year, for the first time ever, I put up our hand-painted nativity scene that we got as a wedding gift. It is beautiful and you can bet that I will be on the hunt for the perfect manger to use with the set. It just adds a special and traditional touch to this years' decor.
So, now that I've taken you on a little tour of my house, I would love to see some of what your house looks like for the holidays!