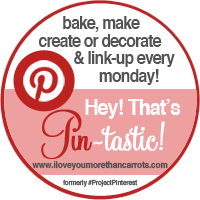 If you follow me on Instagram, you probably know that we celebrated Christmas with B's family on Saturday afternoon. It was a day full of food, family, gifts and laughter and we had a blast. One of the traditions that we have with his family is that we all bake cookies and do a little 'exchange' at the party. It's a win-win because I love to bake, and we get to bring a couple dozen yummy treats home with us afterward.
Just like last year, I made my Mom's 'Snowball' cookies. I know these go by many other names, but they are basically short bread cookies filled with crushed walnuts and dusted with powdered sugar. The recipe is simple and they are so yummy, so I couldn't help but share them for this week's 'Hey, That's Pin-tastic!' over at my SIL's blog.
Snowballs Recipe
What You'll Need:
1 cup butter, softened
1 tsp. vanilla
2 1/4 cups flour
1/4 tsp. salt
3/4 cup chopped walnuts
Powdered sugar for dusting
First, mix the butter, sugar and vanilla. Next, sift in your flour and salt and continue to blend until it forms a nice doughy consistency. Then, stir in the walnuts and chill the dough in the refrigerator for 30-35 minutes.
Once the 30 minutes is up, preheat your oven to 400 degrees and begin rolling the dough into 1 inch balls and placing on an ungreased cookie sheet.
Bake for 10-12 minutes. Remove from oven and allow to cool for a few minutes, and then roll each cookie in powdered sugar while they're still warm.
Serve at any temperature. These cookies are bite sized and a perfectly sweet treat for the holidays!