*UPDATED with Nutrition Facts!*
I had a number of requests via
Twitter
and comments for the Nutrition Facets on this recipe, and you're in luck, because I just so happen to have them!
Creamy Tortellini Soup Nutrition Facts (love 'em or leave 'em :o))
**This recipe says it yields 4 servings, but I think it's more like 5-6, so the nutrition facts may be a bit skewed, in my opinion.
450 Calories

18 g fat

7g saturated fat

34mg cholesterol

1710mg sodium

(yikes?!)

53g carbohydrates

2g fiber

22g protein
So, there you have it - this may not be the healthiest recipe in my book, but it sure is tasty on a cold, winter night!!
-------------------------------------------------------------------------------------------
Good Morning, ladies! Thank you all (again) for your visits, comments and the love you showed for each of my fabulous guest bloggers last week. I enjoyed each of them so much, and had fun each day announcing who would make their way onto this little slice of the internet.
So, yea, we were in Florida last week, and now we're home, unpacked, semi-organized and back to reality. I will post a vacation recap with a few photos later this week!
I am not sure if the weather near each of you was as chilly and dreary as it was here yesterday, but around here the winter weather came back, and we even had some snow! Luckily for me, I had already planned on making soup for dinner, but as we sat down to eat as the snow flurries fell outside, I was thrilled at how it worked out! And, because it was scrumptious, I wanted to share the recipe with all of you! I must also give credit where credit is due, and let you know that I got the recipe from one of
my besties
, and she is a wiz in the kitchen!
Creamy Tortellini Soup Recipe
Ingredients
1 1.8-ounce envelope white sauce mix (I had trouble finding simple 'white sauce,' so I bought the alfredo instead)
4 cups water
1 14-ounce can vegetable broth
1 1/2 cups sliced, fresh mushrooms (I use these if I have them in the fridge, if not, I leave them out)
1/2 cup chopped onion
3 cloves garlic, minced
1/2 tsp dried basil, crushed
1/4 tsp salt
1/4 tsp dried oregano, crushed
1/8 tsp cayenne pepper (I don't use every time)
1 7-to-8-ounce package dried cheese tortellini (about 2 cups)
1 12-ounce can evaporated milk
6 cups fresh baby spinach leaves or torn spinach
Ground black pepper
Finely shredded Parmesan cheese (to taste)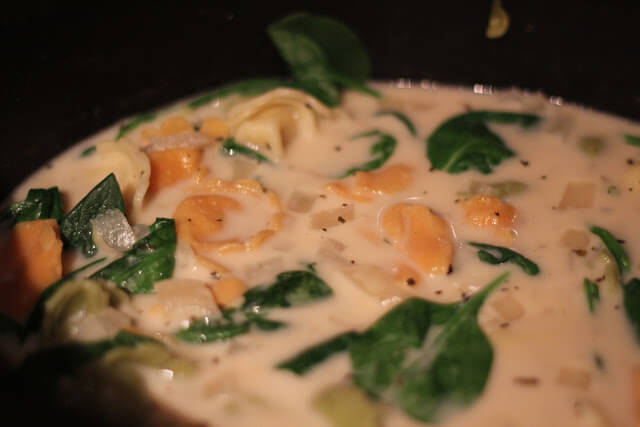 Place dry white sauce mix in crock pot. Gradually stir in water, stirring until smooth. Then, stir in broth, mushrooms, onion, garlic, basil, salt, oregano and cayenne pepper. Cover and cook on low heat for 5-6 hours or on high for 2 1/2-3 hours.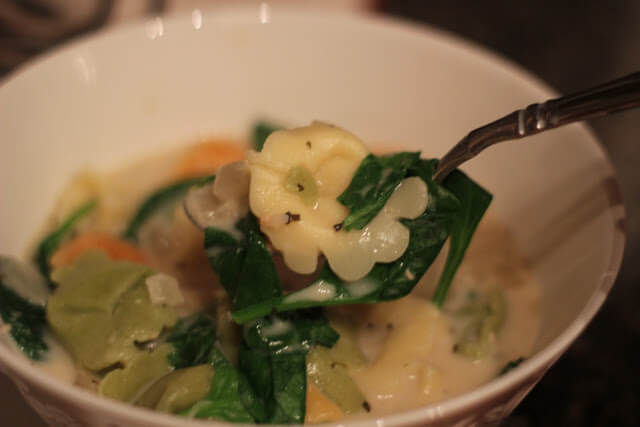 Stir in dried tortellini. Cover and cook for 1 hour on low, or about 45 minutes on high heat. Then, stir in evaporated milk and fresh spinach, If desired, sprinkle each serving with black pepper and Parmesan cheese. Makes about 4 servings.
I hope you're able to make this some time soon! We have had it a few times in our house, and it is becoming a favorite! There is just nothing quite like a warm, home-cooked bowl of soup!