Have I mentioned that I love the idea of guest posting for other fabulous bloggers just as much as I love sharing my space with other fabulous women?! I think this is one of my favorite parts of the blogging community, and today, I am lucky enough to be guest blogging for the always fabulous, Molly from
Duchess of Fork
!
------------------------------------------------------------------------------------------
Hi, Everyone! I'm Pam, a newlywed, late twenties girl from North Jersey who blogs over at
Our Love Nest
! I am so honored to be writing amongst all of these fabulous ladies this week, and even more honored that Molly asked me to hijack her little blog for the day!
For those of you who don't know me yet, I am married to B, we met in college, but didn't start dating until after we graduated (best idea ever, in my book). We dated for 3 1/2 years, got engaged in November of 2009, and were married in a beautiful fall, North Jersey wedding on November 5, 2010. B is one of the greatest men I have ever known, and, although it may sound a bit cliche', I feel like the luckiest girl in the world to have married my best friend.
In the fourteen months that have passed since our wedding, we have lived together for the first time in a modest, one-bedroom apartment, started our family with the addition of an energetic black lab mix puppy named Riley, and bought our very first home. And, on top of all that? I have changed jobs twice, and started a
business of my own
. Life has surely kept us in the fast lane lately, and I hardly ever take the chance to sit back and think about how I am choosing to spend and manage the time I have.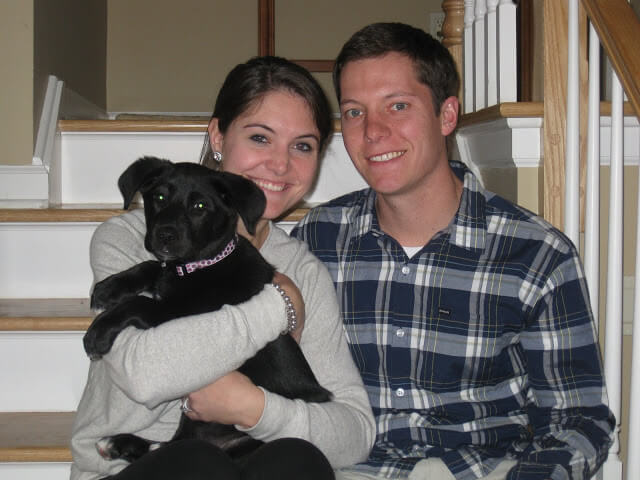 You see, right now, we're a DINK couple. Have you heard of DINKs? I hadn't until my fabulous
sistah-in-love
introduced the term to me a few years back. It simply means, "Dual-Income-No-Kids." What does this mean for us? Well, we both work, don't have any kids (yet), and can basically spend our money the way we please. You know, after the bills are paid and the pup is fed. Right now, our time and money are pretty evenly divided into three categories: house money (for renovations/furnishings), fun money (mainly used for all of the clothes that I don't need) and money we spend going out with and hosting our friends.
We are lucky enough to live close to many of our college friends, so we are typically never without Friday night plans, which I love, but it sure does begin to catch up with you. Is there a certain age you're supposed to reach when you'll finally be ready to "settle down?" You know, start staying home on Friday nights and
planning
thinking about continuing to grow your family? Well, if so, I think the age (for me) is now. I feel like I've been juggling life, love, work and a social life for so long, that some of the balls are starting to drop.
I think my dilemma is with how I am choosing to spend my time. Each morning, I want to wake up early, work out for 30 minutes, spend the next 30 minutes reading a daily devotion, and then catch up on my blog reading while sipping on my first cup of coffee. But instead, I often sleep in later than I planned, and get distracted with things like emptying the dishwasher or switching that fourth load of laundry, and before I know it, my morning is over and I'm being pulled into the next thing. I'd like to schedule a weekly or bi-weekly date night, but often times, when Thursday night rolls around, I've forgotten and am lucky if we have time to squeeze in a movie on the couch before we head to bed and start all over again.
How do you busy Mom's do it?! Even though I'm the type of person who takes pride in productivity, I find myself admiring all the wonderful women I've met via the internet, and wondering how they have the time to keep up with their children, blogs, emails and work, let alone making time for their husbands or themselves! I guess what I'm asking is: do any of you young Mommies have some advice for a girl who is making plans to start her family, but is hoping to get a handle on my schedule in the meantime?!
Now, don't get me wrong, I chose this life, and I love it dearly, but there are days when some advice from a fellow tech savvy and busy woman would do wonders for me. So ladies, how do you try to balance it all?!
Thanks again, Molly, and don't forget to pop over and introduce yourself at my
little slice of the internet
!