I had so much fun posting the table numbers from our wedding reception last week that I decided to try and share weekly tidbits from our wedding with all of you!
This week, I thought I would share my bridal accessories.
I wore a veil for the ceremony. It was actually my "something borrowed," and was borrowed from my best friend who had worn it in her wedding just a few months earlier. The feather piece that you see in the picture above was what I wore in my hair for the reception. My sister (also my MOH) just placed it in for me once we were done with formal pictures and I had taken the veil off. I love the look of something extra in the bride's hair after the veil is taken off, it just dresses it up so nicely!
I just HAD to show you these yummy pictures of my dress hanging in the fall-colored trees in my parents backyard. When I first starting looking at dresses, I wasn't sure what I wanted, and proceeded to try on just about every style there is. But, when I got this this dress, I knew right away that it was the one!! My dress was my "something new" and had a blue ribbon sewn into the bustle to act as my "something blue."
In addition to my engagement ring and new wedding band, I wore a few other pieces of bling on our wedding day. I was lucky enough to be able to wear my late grandmother's wedding rings on my right hand for the entire day (her beautiful rings are in the ring box in the photo above). My grandmother passed away rather unexpectedly about nine months before the wedding, so it was so special to me to have a piece of her with me throughout the day. Her rings were also my "something old."
The other pieces that you see are the faux-diamond and super fabulous bracelet that I wore, as well as my sparkly, dangle earrings and those fantastic purple, Badgley Mischka heels.
Seriously, how hot are these shoes? Two of my bridesmaids convinced me to splurge on these pretties, and I am so glad I did!! They were the perfect pop of color for under my dress and were super comfortable as well! I haven't worn them since our wedding day, so I really need to remedy that!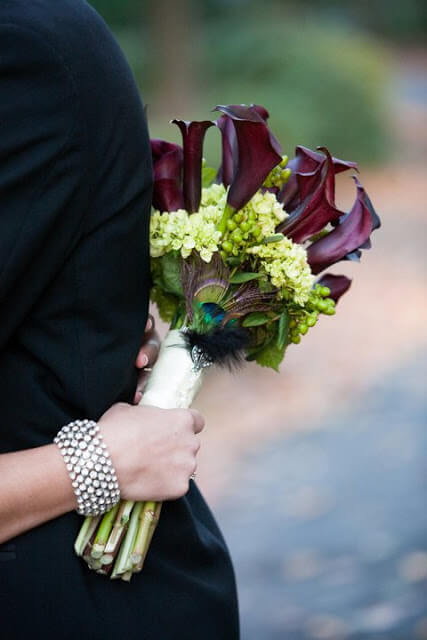 This was my bouquet, and I loooooved it. I decided that I wanted to carry colorful flowers, and my girls wore purple dresses and carried white flowers. I thought the combination was gorgeous! I also bought the peacock feather that you see in the above picture for a little something extra.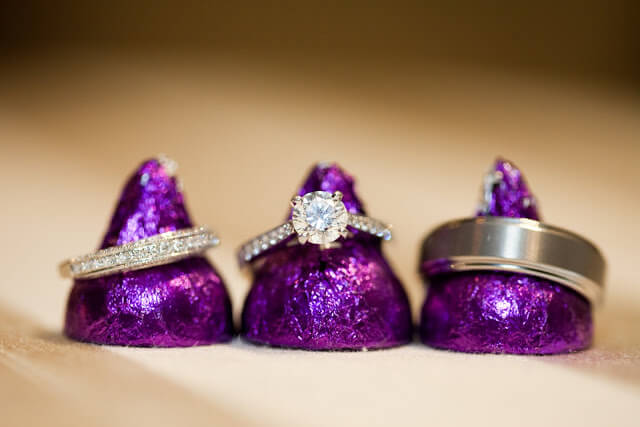 And this was just one of the awesomely creative ways that our photographer captured our rings on camera that day. The purple, foil-wrapped kisses were part of the favors that we had for our guests, and I thought this picture was just stunning!!
Although wedding planning can be stressful, looking back at these pictures makes every single second worth it - there isn't a thing I would change about the decisions that I made for what I wore on our big day.
What was your favorite accessory??