I guess you could say that I have a bit of a sweet tooth when it comes to some of the items that I love to pair with my morning pot cup of coffee. Recently, I've been on a baking kick, and will make a loaf of bread or two every month for us to grab for breakfast before work. If you follow my blog, you might have seen the
pound cake recipe
that I posted a few weeks ago.
As much as we love breads around here, I have been feeling like muffins would be an even easier (and already portioned for you) grab-and-go breakfast item for us. And so, I wanted to share this new recipe with you.
Banana Chocolate Chip Muffins
Ingredients
1 1/2 cups flour
2/3 cup sugar
1 1/2 tsp. baking powder
1/4 tsp. salt
2 large, ripe mashed bananas
1 egg
1/2 cup butter, melted (1 stick)
1/4 cup milk
3/4 cup semisweet chocolate chips
Preheat oven to 350. Line 12-mufin tin with liners or spray.
Mix together flour, sugar, baking soda and salt in large bowl. Mix bananas, egg, butter and milk in separate bowl. Then stir wet ingredients into dry ingredients until just blended. Stir in chocolate chips.
Divide batter among muffin cups, filling each about 3/4 of the way. Bake about 32 minutes, or until muffin tops are gelden and toothpick comes out with only melted chocolate on it.
If you're wondering if I'm a seriously creative and talented baker, the answer is no. I am merely a decent "Google-er" and love to scope out new recipes! I found this one here.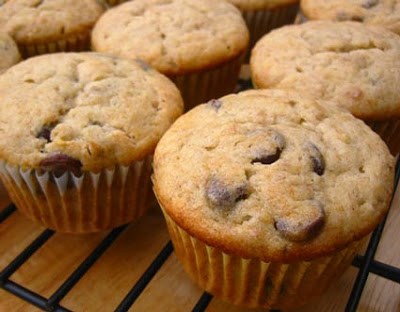 And yes ladies, you can blame me if you aren't able to eat just one of these for breakfast; God knows I'm guilty of downing 2 or 3!!