One of my absolute favorite, all time quotes, from the one and only "Rent." If you've seen it, you know what I mean, if not, just take some time to measure all of the love in your life, in whatever way, shape or form it shows up.
I hope that you all have a wonderful Valentine's Day weekend! And for those of you who are off on Monday (like me!), enjoy the extra day to relax, get together with friends, be productive and/or lazy, cause I know I will!!
B and I are going on our V-Day date tonight to a wonderfully romantic and quaint little restaurant near his hometown. I am super excited to eat the delicious food (so I hear), drink wine and just enjoy a quiet evening with my man.
We are celebrating tonight because I will be traveling to Richmond, VA tomorrow afternoon for a good friend's bridal shower on Sunday!
Steph
is one of the closest girlfriends that I made in college, and she's getting married in April - let the celebrations begin! (She's the one in the Lily dress :o))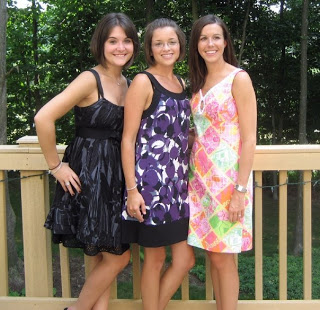 What are YOU doing for V-Day? Any big, romantic plans? Well, however you're planning to spend the day (or weekend), make some time to revel in, and celebrate all of the love in your life!
Happy Friday <3