Sorry I have been rather MIA so far this week! Work has been crazy busy, and I have been trying to make some headway through these projects. But, such is life, and I know you've heard the excuses before!
I wanted to go ahead and pass this award on (from last week) to some fellow bloggers, for their outstanding job of being classy, sassy and keeping me entertained! (Seriously, my morning coffee reads have become my favorite part of the day!)
"These blogs are exceedingly charming. These kind bloggers aim to find friends and be friends. They are not interested in self-aggrandizement. Our hope is that when the ribbons of these prizes are cut, even more friendships will be propagated. Please give more attention to these writers. Deliver this award to eight bloggers who must choose eight more and include this cleverly- written text into the body of their award."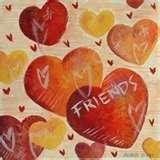 So, without further a-do, the nominees are (drum rollllll) .. OK, so you all win, but that was kinda fun :o)
1.
Erin
2.
Pocket Full of Pink
3.
Ashley
(of Drew & Ashley)
4.
Ashley
(my fave quasi-sister-in-law)
5.
Vanessa
Thanks ladies, for inspiring me every day!
I will be back with more tomorrow, as it is time for me to wrap it up here and get my butt in gear for tonight's workout (a Dance/Cardio DVD that I rented) - wish me luck!