First of all, can I just say that I was SO happy for Kate Winslet last night?! She is just as cute as a button, and I think the Oscar was well-deserved (even though I have yet to see The Reader, but plan to!)
I have always loved tuning in the the award shows; all the glitz and glamour, the gowns, the jewels, there is just so much eye candy! Speaking of eye candy, I thought Hugh Jackman did a great job as host, especially when he called out Brangelina with
"Brad Pitt & Angelina Jolie .. well, I don't have a joke for you, but I'm contractually obligated to bring you up at least 5 times tonight."
LOVE that. His opening number was great, especially since it incorporated Anne Hathoway, whom I adore.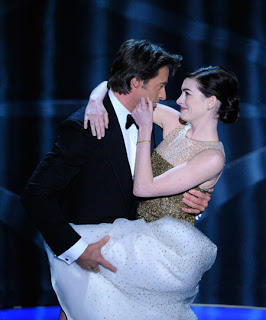 It looks like we're going to have a busy Netflix queue over the next few months, since I now want to see all of the films that were nominated for Best Picture.
A few questions ...
1) WHAT was Jessica Biel wearing? I'm sorry, but girlfriend needs a new stylist, if you ask me.
2) Anne Hathaway, SJP, Amy Adams & Jennifer Aniston - who are your stylist's, because you all looked smashing!!
3) Brad, oh Brad .. what is it that you see in Angelina again?! Ugh.
4) I have to say, I got excited to see the dashing Edward Cullen get up there to present, which reminded me, I must get back to Twilight!
In other news, our weekend was great, but not long enough! We partied pretty hard Saturday night, and between that and staying up late to watch the Oscar's last night, I am one tired girl today!
Is it Friday yet?!
Only 12 DAYS until vacationnnn!! :o)