OK, so after my eventful Friday, the weekend I had so lovingly written about
last week
began!
Let me just start by saying how proud I am of both the JMU Dukes and the Baltimore Ravens (eat your heart out, Skins fans!)
This weekend's football was one of the best this year, in my eyes; so many friends, so many exciting moments!
Our JMU Dukes took on Villanova at home, in what turned into a nail biter in the 4th quarter! But, our Dukes came through, and came out on top, once again, beating Villanova
31-27
. Woohooo!!
It was a fabulous, freezing cold weekend, and a few of my favorite pics are below!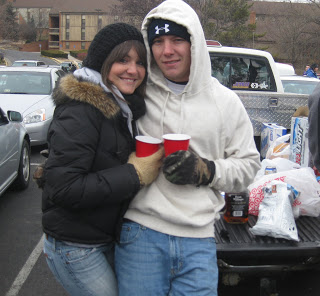 B and I tailgating at JMU, just like the good old days :o)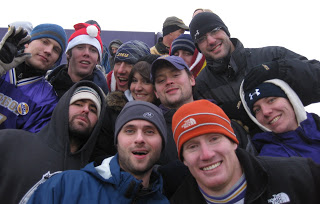 Some of the group in the game!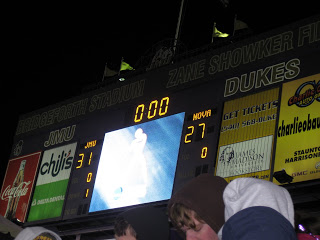 Supporting our Dukes, all the way to Chattanooga!! Bring on Montana!
It really was a weekend for the record books. How many layers can I wear to keep my fingers and toes from falling off?
And one game wasn't enough for B and I, apparently. The old "battle of the beltway" was also last night. The Washington Redskins traveled up to M&T Bank Stadium to take on the good old Baltimore Ravens.
(Back story: I am a NY Jets fan at heart, and always will be, but as long as they're not playing my Jets, I will root for the Ravens, along with B and
the gang
.)
All this being said, I was ready to root on the Ravens yesterday. We ventured (as exhausted as we still were from JMU) up into Baltimore to one of the local Ravens fans watering holes for the first half. The Ravens seemed to have the game in the bag after scoring twice in the first 5 minutes of regulation. But, it was cold, the ball was like a rock, and the game got a little tricky there for a while.
But, led by the helpful hands of Ed Reed, Ray Lewis, Le'Ron McLean, Derrick Mason, Joe Flacco and many others, the Ravens pulled it out -
winning 24-10 in Baltimore
.
A successful football weekend. I am exhausted. 17 days until Christmas!!!