UPDATED: Many of you lovely ladies asked about where I got those pretty little cognac Intyce boots by Steve Madden, so I wanted to hook you up with a link! I typically buy my boots at Nordstrom, but I know they sell them at Piperlime and Shoes.com as well!
Click here to buy them at Nordy's!! ENJOY! :o)
--------------------------------------------------------------------------------------------
One of my favorite parts about fall and winter is the footwear! You can sometimes catch me wearing riding boots in September when it's still 70 degrees outside. Sometimes. So, I look forward to these times of the year so that I can break out and dust off my gorgeous collection of boots! Beginning in October and lasting through about April, I wear boots on about 8 out of 10 days. I basically plan my outfits around my shoes at this point. Is that weird?
So, today's post will be mostly about the boots I already own, and less about the boots on my wish list. I said less, not without.
Riding Boots, oh how I love thee. My closet wouldn't be the same without a few five of these babies. My favorite pair? The Steven by Steve Madden Intyce Riding Boot: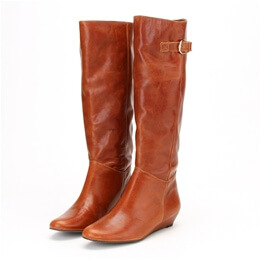 Hello, luvahhhh
I currently have three pairs of these boots in my closet in cognac, black and grey leather, and they are to die for! They pair perfectly with leggings, skinny jeans or even a dress! If I had to choose, I would say that the cognac pair are probably my favorite, the color is exactly what I wanted! I may or may not try to squeeze another pair into our budget before the end of the year for when my cognac ones get too beat up.
The most recent addition to my boot shrine collection is a more practical, but equally as fabulous pair of wellies! Once we added the pup to our mix, I knew a pair of these would come in handy on the many snowy and rainy days we've been having here in MD! I chose this pair of Chinese Laundry Bog Rain Boots: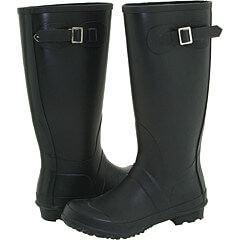 Another item I just couldn't live without?
Short, tall, dark or light, it doesn't matter to me! Although it took me a little while to get used to the "eskimo" look of these boots, I never looked back once I tried them on! They are so comfy and warm it's like wearing fuzzy slippers all day long, and looking cute while you're at it! I pretty much throw a pair of mine on at any chance I get, and have been lucky enough to be gifted with both a camel and chocolate pair over the last few years.
Well, this wouldn't be a Wish List Wednesday if there wasn't something I'd been eyeing, right? Feast your eyes on the next pair of boots to be added to my collection ...

The Ugg Bailey Button Boot in Chesnut!! Hello, pretties - you will love your new home in my closet, someday.
So, that about sums up what I've been wearing on my feet for the last few four months. Now, let's just hope B doesn't make me start thinning out my collection on the next "closet cleanout for Goodwill" day!!